ImageKit optimizes and transforms your images on-the-fly. The images are delivered using best-in-class global CDNs. However, to further increase the performance and reliability, the main ImageKit servers too are spread across the globe.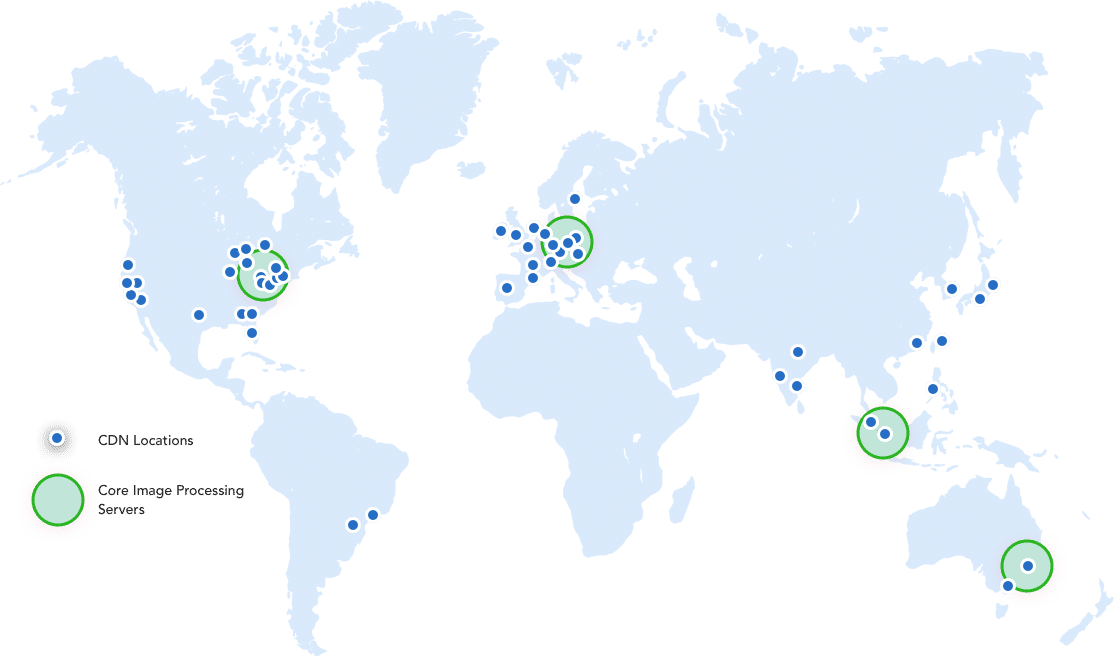 Purpose of distributing ImageKit Servers
Distributing the servers across the globe has two benefits – better redundancy and better performance.
We always strive for 100% uptime. A particular geographical region may get impacted by a natural calamity or network failure. To mitigate disruption of ImageKit's service because of these reasons, the servers are spread in multiple regions
Also, if an ImageKit server is close to your original image source, then the first retrieval time from your source is significantly faster. For example, an image of size 15KB can be retrieved within the Singapore region in about 30ms. The same image when fetched between Singapore and US regions can take more than 500ms.
Locations of ImageKit Servers
ImageKit servers are currently located in 4 regions – Singapore, Frankfurt (Germany), North Virginia (USA) and Sydney (Australia). Additionally, there are more locations being planned in the future, based on the performance requirements of our customers.
Do I need to select a server?
No. An ImageKit server is picked automatically to fulfil a request based on multiple factors. Therefore, your image URL remains the same regardless of which server is used to transform the image.
Are there any additional charges?
No. ImageKit servers are automatically accessible for all accounts using ImageKit.
To understand more about how the global network is used in your particular case, send us an email on hello@imagekit.io