Key results achieved: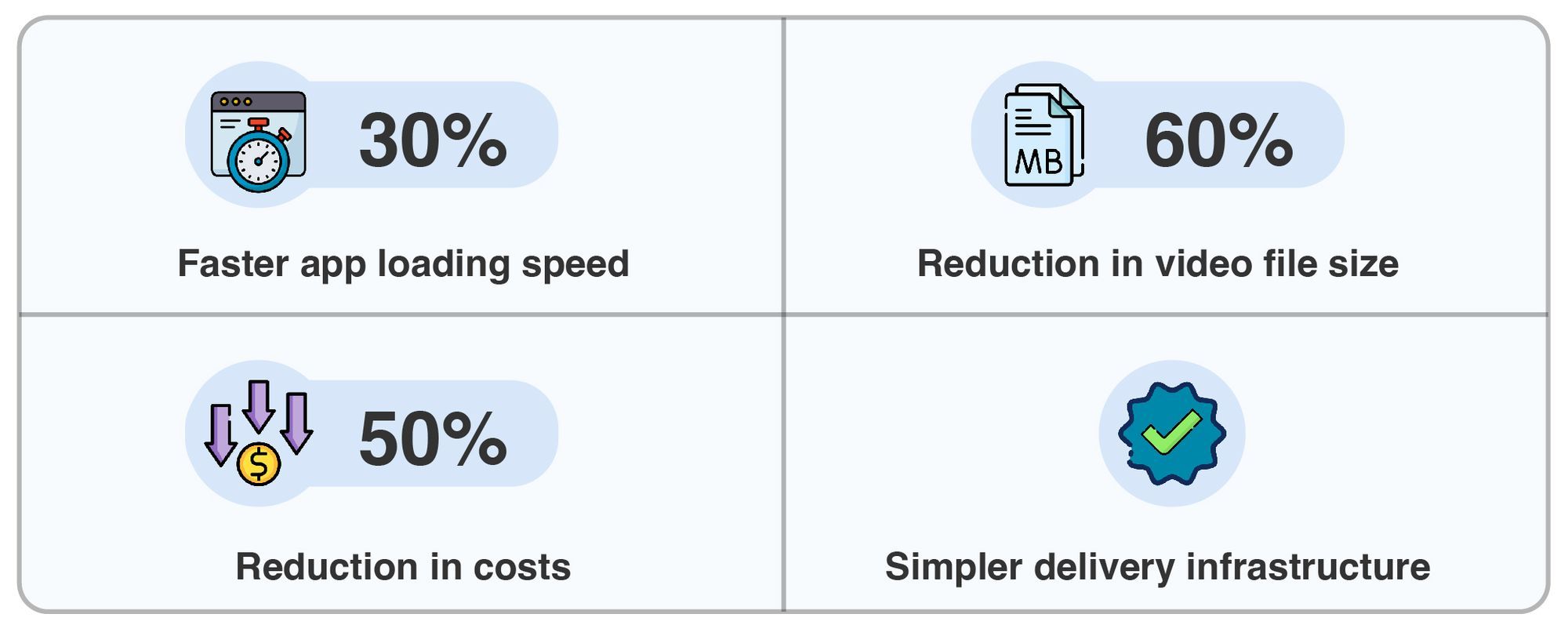 About BookMyShow - The story so far
BookMyShow is India's most popular and leading online entertainment platform that allows users to book online tickets for movies, plays, events, activities, and much more in their city. Further, users can also watch upcoming movie trailers and movie reviews and stream on-demand content.
Being a media and entertainment-based business, more than 70% of BookMyShow's content comprises images and video. Optimizing media to ensure a smooth web and mobile experience is a top priority for BookMyShow.
For a very long time, BookMyShow has been using a third-party CDN provider whose offerings were expensive and restrictive to a large extent. When it came to supporting the latest media formats and enabling real-time video optimization, the service provider's capabilities did not meet BookMyShow's needs. Further, BookMyShow had to incur additional costs to transfer data from their cloud storage to the CDN in addition to paying for the CDN service. All these factors led to the consideration of an alternative service provider.
How ImageKit helped BookMyShow restructure its media delivery ops

BookMyShow had already been using ImageKit's media transformation services for almost two years with a third-party CDN.
This allowed BookMyShow to accelerate its media delivery with image optimization capabilities. However, due to the third-party CDN vendor's restrictive capabilities and the lack of support for ImageKit's video transformations and AVIF Format, BookMyShow could not leverage the full capabilities of ImageKit. These challenges became even more critical with the heavy pricing charged by the vendor.
The already existing association and the challenges posed by the third-party vendor led BookMyShow to switch to ImageKit's integrated CDN and explore all its CDN delivery, image transformation, and real-time video optimization capabilities. This move helped BookMyShow achieve significant efficiencies in terms of enhanced user experience and tangible cost savings.
Here is a detailed brief of the ImageKit features that helped BookMyShow restructure its content delivery operations.
CDN for smooth content delivery
Moving to ImageKit's CDN helped reduce the number of hops while routing traffic by eliminating several layers in the delivery network. The time to load images was reduced drastically by moving to ImageKit's CDN. This, coupled with better optimizations and the lower pricing of ImageKit, helped BookMyShow slash 75% of its media delivery costs by migrating to ImageKit's CDN.

Video file format conversion
BookMyShow hosts a huge amount of video content in the form of trailers, promos, event previews, etc. Most often, the raw files of these videos provided by the production houses come in several formats, running into GBs. They are not ideal for streaming on the web or app and need extensive format conversion and optimization before they can be streamed over the internet.
With ImageKit's automatic video format conversion and optimization that works without any URL change, BookMyShow could optimize videos for the best visual experience without any significant development effort. Users could now watch videos in the best quality possible with minimal load time and faster streaming across all platforms.
To take it a step further, BookMyShow now uses ImageKit's Adaptive Bitrate Streaming to stream longer videos without any buffering issues. Adaptive Bitrate Streaming automatically adapts the video bitrate to the user's internet bandwidth. It improves the video streaming experience by minimizing interruptions caused due to fluctuating internet bandwidth.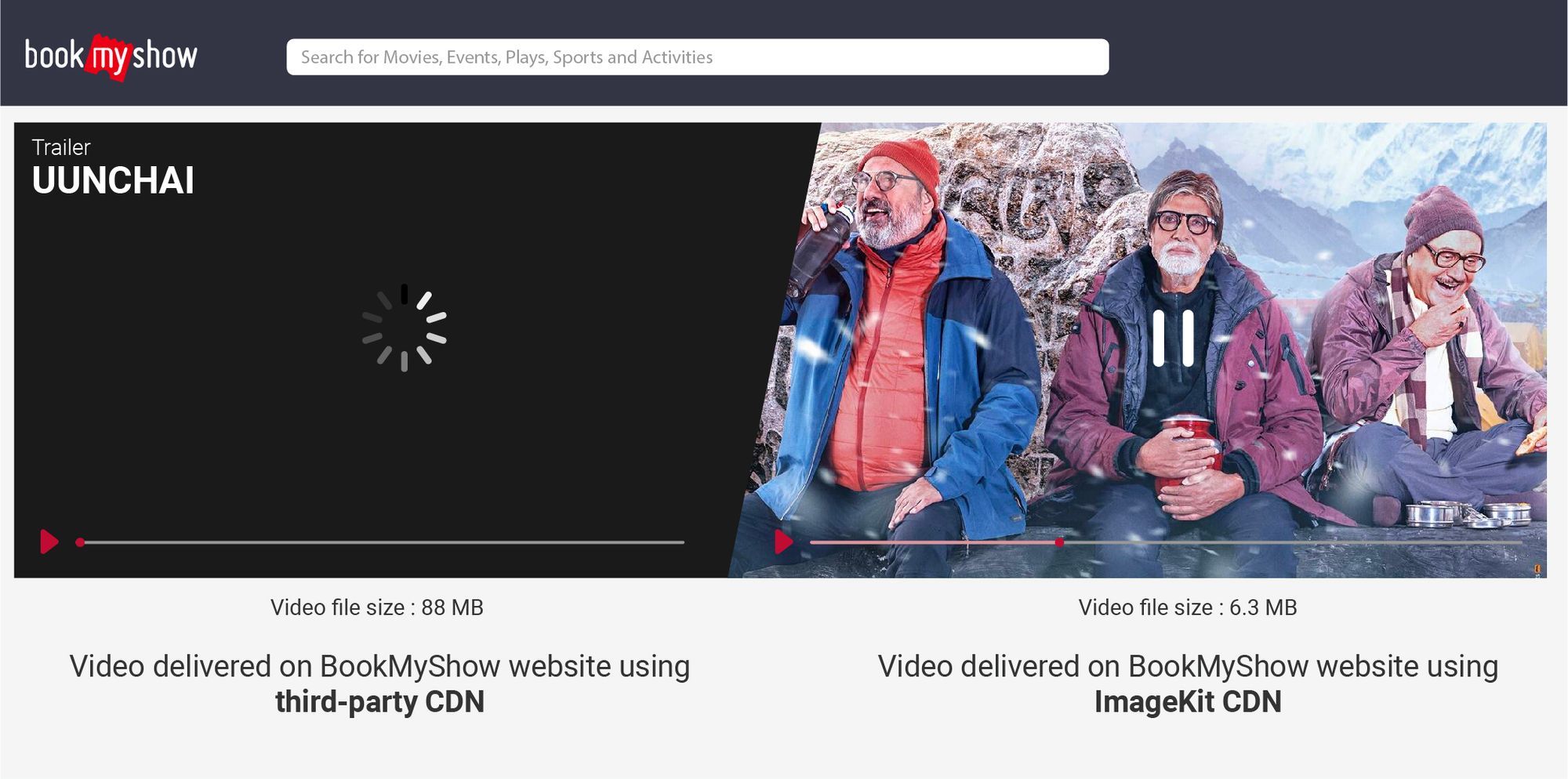 Text overlays on image banners
BookMyShow uses text overlays on image banners to display key information to its users. Information like rating, likes, votes, media category, date, etc., is displayed on every image banner. This information acts as social proof and helps users make a quick decision in choosing the best title that suits their interests and the latest trends.
Regularly updating such information about each movie manually is time-consuming. There is also the limited availability of designers and developers and the pressure of taking assets to market in the shortest possible time.
With ImageKit's real-time, URL-based image transformation capabilities, BookMyShow could add text and image overlays to its banners at scale without relying too much on its designers or developers. These contextual banners improve the user experience and help them accelerate the time to market.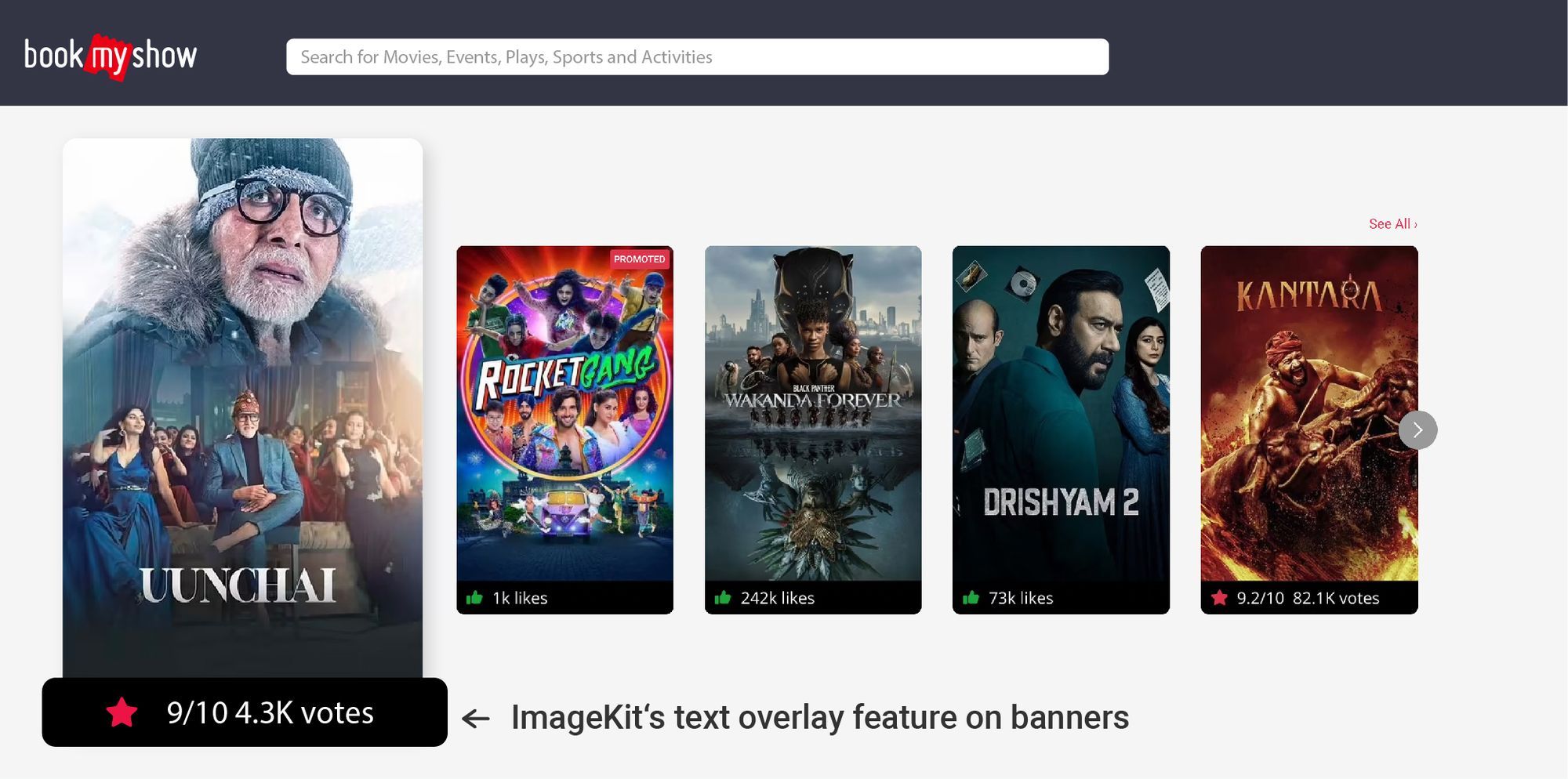 Key results that BookMyShow achieved:
Moving to ImageKit as the single point for CDN and media transformations was a conscious move from BookMyShow. The move helped them gain significant improvements like faster app loading speed, reduced file sizes, cost savings, and a streamlined video delivery infrastructure.
"With ImageKit, we have saved more than half the cost we incurred earlier. Further, it allowed us to leverage next-gen image formats, drastically improving our web and app performance across all platforms."
~ Vaibhav Jain, Manager, Engineering at BookMyShow
30% faster load time across all platforms
BookMyShow delivers its content to its users through its website, mobile site, and mobile apps on Android & iOS. With the implementation of ImageKit CDN and media optimization services, the web and mobile site vitals have improved significantly.
With ImageKit's automatic file format conversion capability, raw image files could be easily converted into AVIF format. This helped improve the page loading speed without compromising media quality. For mobile app performance, BookMyShow achieved a 30% to 35% reduction in app loading times by delivering media through ImageKit.
60% reduction in video file sizes
For movies with a big budget and great hype, BookMyShow plans exclusive promotional content, typically in video trailers. These video trailers are placed on the website's home page, where maximum eyeballs are expected. BookMyShow leverages ImageKit's video compression and adaptive bitrate streaming capabilities to stream these high-definition trailers without buffering issues.
The URL-based video API enables BookMyShow to quickly convert video files from raw format to the desired format or streaming protocol supported across browsers and facilitate quick video buffering. With ImageKit's video optimization, they achieved a 60% reduction in file size.
A tangible reduction in costs
The previous CDN service provider that BookMyShow used had a pricing structure that did not scale well for their requirements. BookMyShow had to look for alternatives that were better priced and also gave the advantage of being located in the same region as BookMyShow. ImageKit ticked off all the boxes. The switch to ImageKit's CDN helped BookMyShow achieve a cost reduction of over 50%.
An easier-to-manage delivery infrastructure
Switching from the previous CDN provider to ImageKit allowed BookMyShow to eliminate unnecessary routing of requests. Further, the number of infrastructure components that need to be managed and monitored was also reduced since ImageKit was directly integrated with the cloud storage systems of BookMyShow. It streamlined the media delivery process and resulted in an easy-to-manage economic infrastructure.
BookMyShow + ImageKit — The End Credits
In India, BookMyShow is one of the early movers in the entertainment and ticketing industry and has created a unique brand name for itself. Their success relies heavily on how they project content on their website, mobile site, and app.
With ImageKit, BookMyShow could streamline its content delivery process, improve its user experience across all platforms, and achieve significant cost savings.
The switch from the erstwhile CDN service provider to ImageKit resulted in better infrastructure. Further, using ImageKit's image and video transformation capabilities resulted in faster time to market without depending heavily on the developer and design resources.
BookMyShow's business model is unique. However, the challenges that it had to overcome are universal. These challenges could apply to your business. Any business that has media-heavy operations can benefit from a tool like ImageKit.
If you want to improve your business's image and video editing, optimization, and delivery workflows, with minimal effort, ImageKit is the right choice.
BookMyShow sharpened its media delivery with ImageKit
Your brand could be the next success story.
Try ImageKit for free