Lenskart is one of the leading e-commerce portals for eyewear in India, UAE, USA, and other international markets. With an ever-growing number of offline retail stores and cutting-edge technology to improve the online purchase experience, Lenskart has revolutionized the eyewear industry with its omnichannel approach.
With evolving consumer expectations and expansion into new markets, the requirement to provide a high-quality digital experience is critical.
In the new platform built by Lenskart, ImageKit is used to handle the complete product catalog, image optimization, and transformation process. This has allowed Lenskart to focus on building its core e-commerce platform while leaving the visuals in the hands of a dedicated media processing tool like ImageKit.

Offloading this component to a third party has helped Lenskart achieve the desired goal of delivering high-quality, optimized images with minimal development effort. This has helped improve conversions and reduce its time to go live in new markets.  
Key Results

Automated image transformations and optimizations

With 200+ products added to its catalog every week, automating the optimization and transformation process for the catalog images was vital. With ImageKit, this process is fully automated for the entire catalog across different platforms.

Better visual quality of images

A high-quality visual experience is essential to drive higher conversions. Lenskart has improved the perceived quality of its product images while still optimizing them with ImageKit's real-time transformations.

Optimization that works with their infrastructure

The entire optimization and transformation solution works seamlessly with Lenskart's existing image storage and CMS. This has made the change transparent and easy for its internal teams while achieving the desired business goals.

Reduce effort and time to market

With multiple platforms and geographies to cater to and an evolving e-commerce platform, offloading image optimization to ImageKit has saved significant developer effort for Lenskart's team. Coupled with ImageKit's industry-leading support, they can focus on building their core e-commerce capabilities while relying on ImageKit for a world-class media optimization service.

Future-proof for adopting the latest technology

With a product like ImageKit, which focuses only on media optimization, Lenskart now has access to cutting-edge features like AVIF image format and real-time video optimizations to further improve and experiment with new media formats on their platforms.
How did Lenskart achieve these results?

Before building its in-house e-commerce platform, Lenskart used a popular third-party e-commerce platform. This third-party platform came built-in with some image optimizations and transformations, but the output images were often low-quality and grainy.
With business evolving and focusing on delivering a better experience across all digital channels, Lenskart decided to build its own e-commerce platform. One missing piece in this new in-house platform was automatic image optimizations and transformations while delivering high-quality images.
"For us, the visual quality of images is of great importance. We are constantly trying to improve the end-to-end conversion ratios, and showcasing our products with high-quality visuals is super important for that", said Arpit Garg, a product manager with the cataloging team in Lenskart.
Why offload media optimization to ImageKit?

Lenskart started evaluating a few third-party options as building an image optimization service in-house would have been challenging, time-consuming, and, more importantly, not aligned with their core business.
"We would rather rely on a third-party provider who does image and other media optimizations as their core business rather than building this expertise and maintaining the system in-house. It is simply not where we want to focus as a business", said Arpit.
Among the solutions it evaluated, ImageKit came out to be the best match for its requirements regarding the ease of integration, optimizations, and the output visual quality of images.
"ImageKit's support is very helpful. It is not that you are talking to just the first line of support that cannot help you technically. ImageKit connects you directly to the engineers who can advise you on the right features to use for your requirements. They are always just an email or chat away. And this was a key decision criterion for us",  said Arpit.
Higher visual quality while achieving standard optimizations

The primary goal of using any third-party image service was to deliver optimized images at the highest possible visual quality.
Lenskart evaluated ImageKit and a few of its competitors for visual quality and optimization performance, and ImageKit performed better than other tools. With real-time image resizing and sharpening transformation provided by ImageKit, the output visual quality of images was significantly better, especially when resizing an image to lower resolutions.
These image transformations, combined with the default settings for image compression, worked great for Lenskart. It ensured that the change needed was minimal, and the solution just worked perfectly out of the box.
Easy integration with their own storage for data privacy

Most of Lenskart's catalog images are clicked and edited in-house. These product images are proprietary to Lenskart; therefore, they did not want to move their images from their current storage to that of a third party like ImageKit. Doing so would have also meant extensive changes to their internal CMS and the team's process.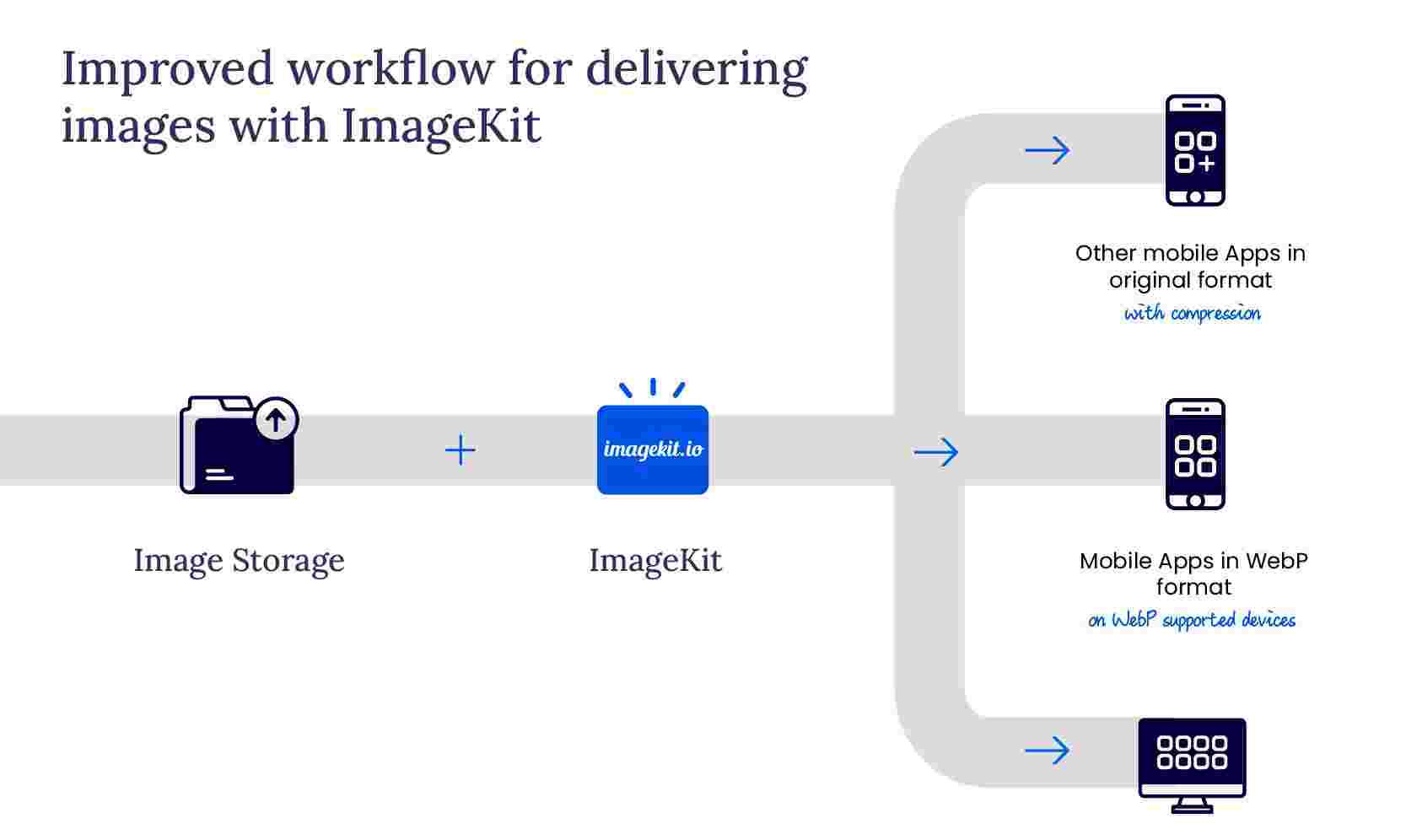 Therefore, it was essential to use an image optimization provider that could integrate with their existing storage, CMS, and delivery mechanisms.
ImageKit integrates with all leading cloud storage - AWS S3, Google Cloud, Azure, S3-compatible storage, web servers, etc. With this requirement taken care of, it was a no-brainer for Lenskart to start using ImageKit to optimize all of its product catalog images.
Reduce effort and time to market

This easy integration with their existing storage was helpful for data privacy and saved a lot of developer effort in integration and taking new products live to market.
ImageKit also comes with certain optimization defaults and easy-to-use URL-based image transformations that make it simple to adapt your images to any requirement.
"The transformations were effortless to use. I am not a developer myself. So while I could not integrate our existing cloud storage in ImageKit, I could easily upload some product images to their integrated media library and get started. The documentation about the compression and transformations is straightforward. I could figure out the transformation parameters we would need for our product catalog images and then pass them on to our tech team for implementation", said Arpit.
Perfect images across all devices

Lenskart serves its customers across all possible devices and platforms. There are Android and iOS apps, along with mobile and desktop web. The team needs to build a high-quality visual experience on all devices.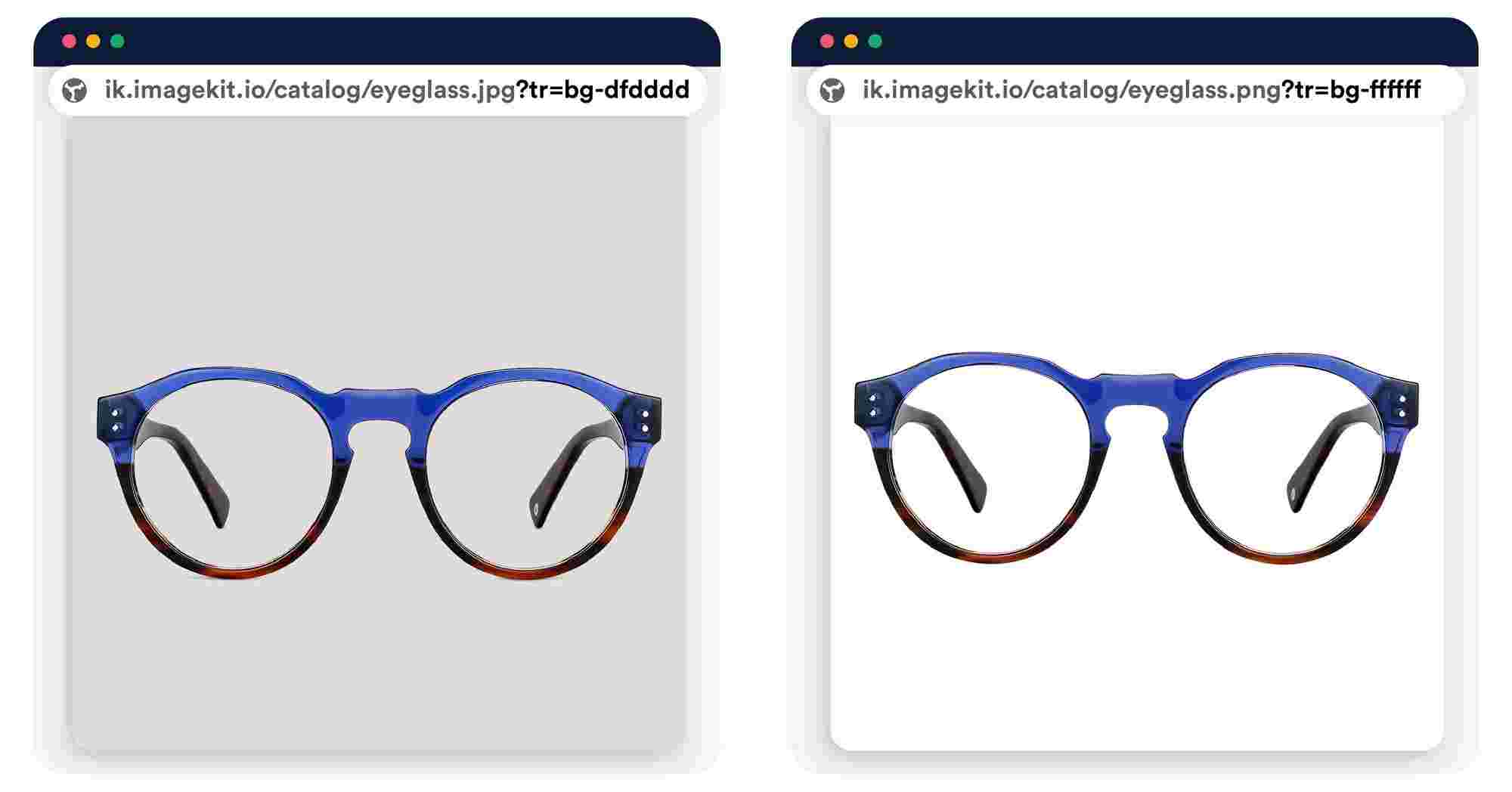 Lenskart's team can transform a single original product image from its photographers into responsive images that look great across different devices with real-time resizing, cropping, and different crop modes. They also leverage real-time DPR transformations to generate image variants suitable for high-density or retina screens.
Adopting modern technology made simple

Integrating a dedicated third-party service for image optimization has also made Lenskart's tech stack around the same future-proof.
It can now adopt modern image formats like AVIF with ease. When these formats become widely available across different platforms, Lenskart can use ImageKit to convert its product images to these lighter formats and improve user experience and conversions.
Additionally, with ImageKit's new Video APIs, AI-powered image editing features, and other developments that will happen in the future, Lenskart now has a tool at its disposal that allows it to experiment with new media formats and experiences in the future.
Conclusion

Lenskart, like several other e-commerce companies operating at their scale, puts a lot of focus on optimizing the digital experience to maximize conversions and RoI.
Improving the image quality has helped them in two ways. The first is to improve the page speed. Second, and more importantly, is to deliver high-quality images across devices. The improved visuals have helped elevate the overall user experience Lenskart offers its customers, bringing it at par with its competitors in international markets.
Having ImageKit in its arsenal has made it easy for Lenskart to achieve these business goals of delivering a great experience to its users at scale with minimal effort.
If your company faces a similar challenge and wants to improve its image editing, optimization, and delivery workflows, with minimal effort, reach out to us at support@imagekit.io for a quick consultation session. You can also try out the product by creating a free account here.