If you use loads of digital assets for your business, we understand your efforts to maintain a neatly organized repository. You make sure to follow file naming conventions. You put them into relevant folders and occasionally spend time cleaning them up.
But how often does it happen that you don't remember the name of the asset you wish to find, much less the folder you put it in? Or that you are searching for an asset added a certain while ago or one belonging to a previous campaign but just can't? You might frequently find yourself scouting for older assets only to end up recreating them.
This is where an intelligent search system comes into play. Powerful searching capabilities can make it effortless to locate these especially hard-to-find assets among hundreds of thousands of them. Apart from the dollar value of the time saved, your teams can avoid repetition of effort and deliver faster time-to-market by eliminating the repetitive tasks of asset hunting and sorting. Instead, with the time in hand, they can focus on what they do best!
We're excited to announce Advanced Search in Media Library - a simple, yet powerful way to find the exact asset you are looking for. Read on to know how it can help you harness the true power of the Media Library.
How Does Advanced Search Work?
When you search for an asset in the Media Library by entering the search term in the search box, by default, it only returns the files and folders beginning with that particular search term. Read here to understand how the default search results are determined.


Now, this is where it gets interesting! If you wish to get more specific with your search, click on the filter icon on the right-hand side of the search bar. In addition to search by name, this allows you to search by Tags, Size, Dimensions, Format, Privacy, Transparency, Upload Date, and Modified Date.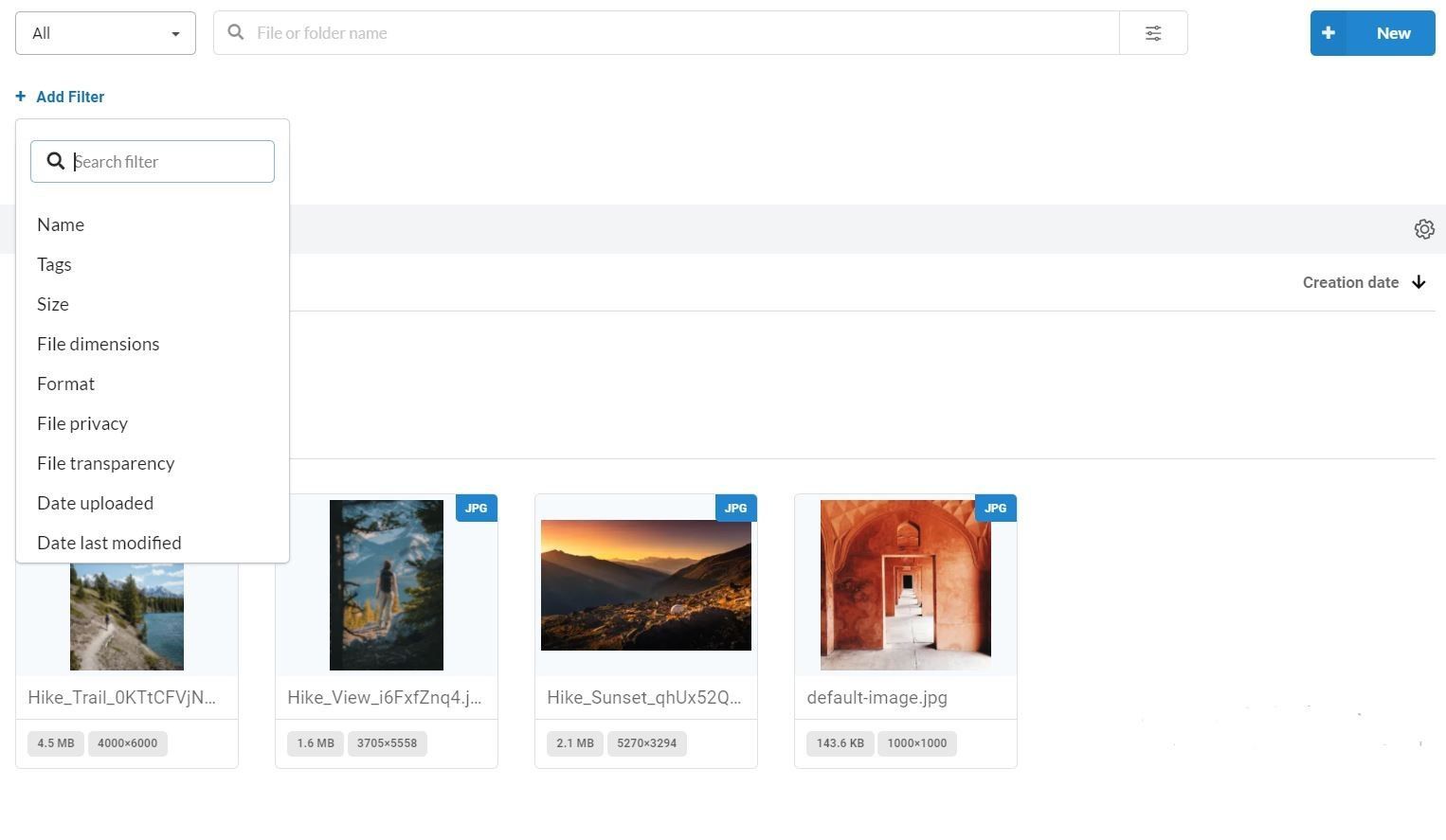 Combine Filters to Find That Exact File
Combining filters is super easy. The media library now allows you to add a new filter group or add filters to an existing filter group (using the `+` icon in the filter group). You can then decide whether you want your filters to narrow down the search (using the AND operator) or broaden your search (using the OR operator).
Example Use Case
Say you're a marketer for an e-commerce business and create many promotional banners for seasonal sales. You wish to use a particular banner created for mobile products for the upcoming summer sale.
You may start by searching into a broader set of files by searching for images tagged as Mobile or Summer. Combining the two filters with the or operator returns files tagged either as Mobile or as Summer.

Or you may narrow down your results by searching for images tagged both as Mobile and Summer by combining these two with the and operator.

Say you wish to further drill down to a banner wider than 1000 px created during May 2021. Add the File Dimensions filter and input the custom value of Min. width.

Next, add the Date Uploaded filter and input the custom time range using the drop-down calendar.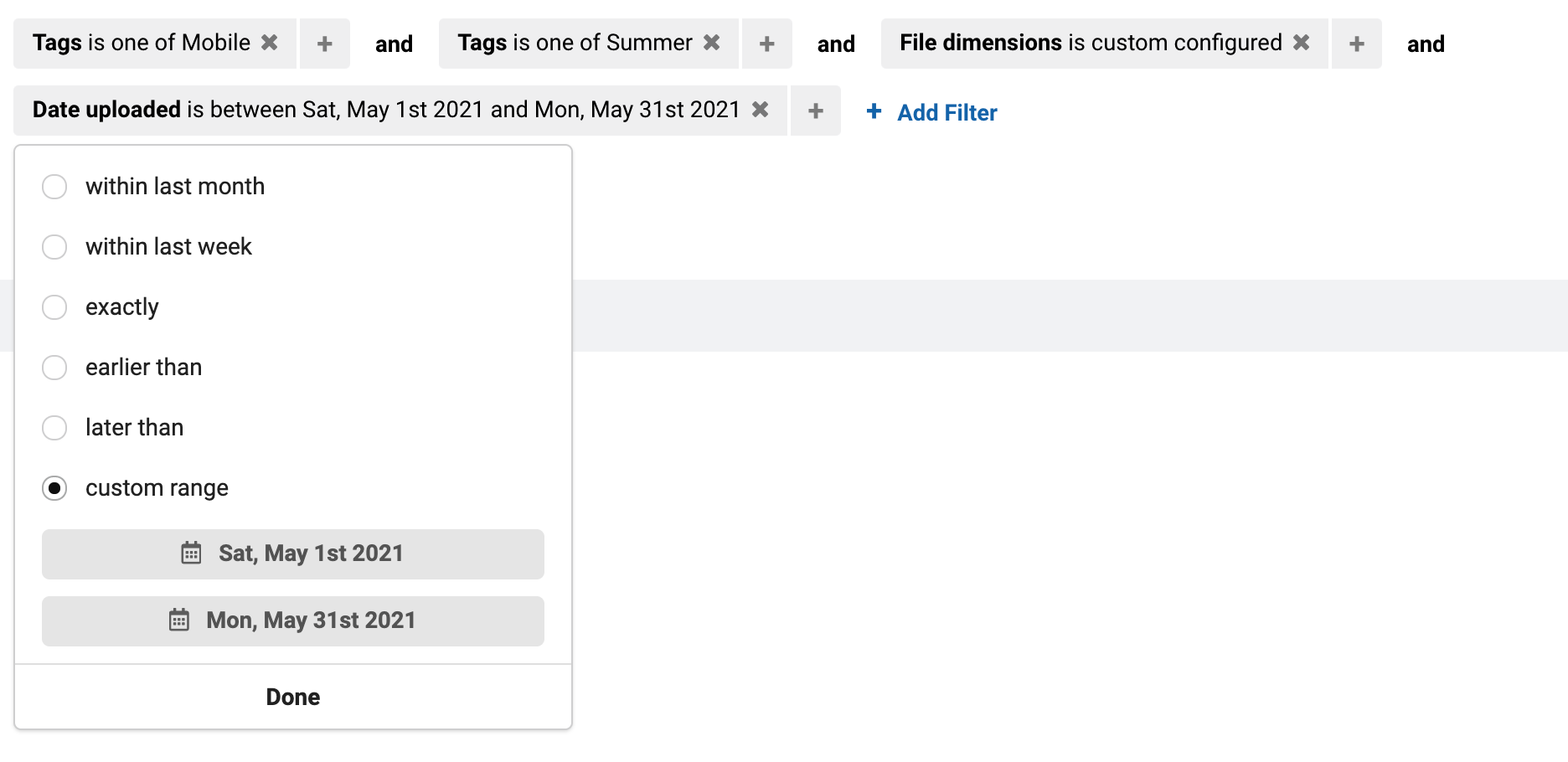 And, voilà, you have the matching images listed.

If you want to integrate this image search in your existing CMS instead of logging in to the ImageKit dashboard, learn how to do it using the Search API.
Clear Your Digital Clutter, Keep Everyone on the Same Page
Your organization recently underwent rebranding. But your stakeholders keep using outdated creatives for their collaterals. You need to segregate and get rid of all images last modified at least a year ago. Instead of going through your library and finding older photos manually, simply select the Date Last Modified filter, click on "Earlier than", and select an exact date.

These are the files you would want to delete. Next, select multiple files by pressing and holding the Command key in Mac or the Ctrl key in Windows. Right-click any file and click the "Delete" option to delete all files in one go.
Not only will removing old assets free up Media Library storage space, but it will also make Media Library your single source of truth. You can now provide a seamless customer experience by delivering consistent digital assets across all channels.
Share Your Search Results With Your Teams
If you want to share the files you got in your search results with your creative or tech teams, who have access to the dashboard, Advanced Search has you covered. Copy the URL generated for your search query from your browser's address bar and share away.
Easily Optimize and Transform Content, Distribute It Across Multiple Channels
Every image uploaded to the Media Library gets ready-to-use image URLs with automatic image compression and the best image format selection enabled by default. Additionally, you can access 40+ real-time image transformation options to resize, crop, rotate, add text, or image overlay directly from the image URL. You can also embed these URLs directly into your blog post, landing pages, emails, or other content pieces, in the correct format and size, without depending on your graphics team.
Media Library With Advanced Search vs. Your Current Cloud Storage Solution
Cloud Storages like AWS S3 or Google Cloud Storage are not meant for content and marketing teams to use directly. They require a fair bit of technical knowledge to use and configure. They are built as general object storage solutions and not specific to media files. On the other hand, solutions like Google Drive or Dropbox simplify the general storage problem to an extent where finding the right digital asset can become frustrating. In both of these solutions, you need to remember the exact name or folder of a particular file to find it as they lack advanced search options like image tags, file dimensions, and so on.
Organizations that are serious about their digital presence need something more powerful directly in the hands of the their content creators and marketers. This is where the Media Library comes in.
Built on top of AWS S3, ImageKit's media library has the same reliability as any cloud storage while providing an interface, features, and access controls that empower your teams to stay consistent, do more, and get a better ROI for their efforts.
Next Steps
Now that you've reached this far into the article, we hope you understand how you can simplify digital asset management in your organization using ImageKit's Media Library with its Advanced Search feature.
Want to use it for your business or want to learn more? Sign up for a free account from ImageKit's website, or reach out to our team to discuss your requirement.