Almost every business on the planet is scrambling to deliver memorable customer experiences. In the digital world, multimedia is the biggest asset that organizations can use to win the attention and engagement of users.
Multimedia production is no longer the mammoth challenge that it used to be, thanks to the countless web tools that can make anyone a designer. However, now there is a challenge that organizations are grappling with. They have a growing repository of digital assets that vary in format, size, and application.
As a result, managing these digital assets is complex; ensuring they are easily discoverable and accessible for all stakeholders, maintaining the asset's data integrity, and protecting them increases the complexity. While fragmented solutions provide a temporary fix, a permanent fix comes from a cloud Digital Asset Management (DAM).
What is Cloud Digital Asset Management?

Under the hood, a DAM system orchestrates asset storage, accessibility, and retrieval, enabling stakeholders to deliver branded experiences. In addition, DAM systems allow users to tinker with the digital assets to become more compatible. All this, without excessive reliance on the organization's creative resources or IT support.
A DAM system running on the cloud is called cloud-based Digital Asset Management. Unlike its on-premise counterpart, cloud-based offerings are easy to access and manage and give substantial cost savings.
DAM helps organizations in three ways:
It reduces redundancies, accelerates time-to-market, and eases internal and external collaboration over digital assets.

It streamlines how digital assets are created, stored, accessed, and managed, including their licenses and copyrights.

Create a self-service mode of creating digital assets that reduce dependencies on design and IT teams
DAM has been around for a while in the form of on-premise applications. However, with the massive growth of cloud storage, cloud-based DAM has become the staple of most organizations.
If your organization wants to be agile, productive, and financially efficient in the days to come, a cloud-based DAM should be your choice.
Would you lose anything by choosing or switching to a cloud-based DAM? Apparently, not. Here is how on-premise DAM and cloud-based DAM differ from each other.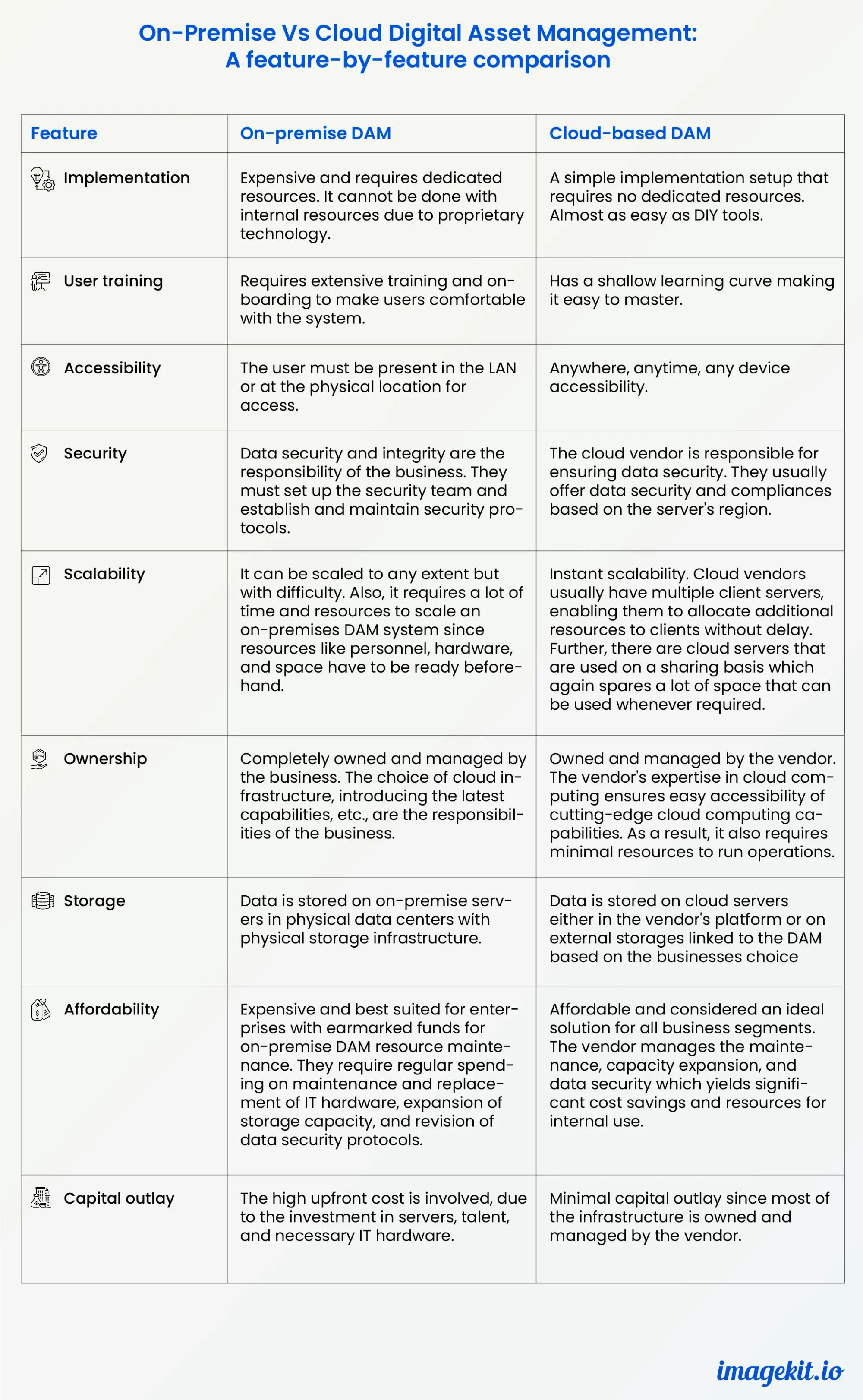 8 tangible benefits of a cloud Digital Asset Management (DAM)
The table above lists specific advantages of a cloud-based DAM over an on-premise DAM system. Further, there are several benefits that an organization can realize by switching to cloud-based DAM. Here are some of them:
Better asset organization
When there are thousands of digital assets to be managed, asset organization becomes imperative. There are several ways of organizing digital assets, grouping assets by type or size in a separate folder being the basic of them all.
Under asset organization, tagging as a function stands out in cloud DAM. In cloud DAM, Metadata tagging provides a simple way to group assets based on several parameters. For example, a single asset can be tagged with multiple tags associated with its format, type, application, owner, etc. Further, any visual object's attribute from the image can also be used in metadata tagging.
Apart from metadata tagging, DAMs also have other tagging methods.
There are two types of tagging in cloud DAMs: Manual tagging and AI-based tagging. As the name suggests, manual tagging requires manual updating/creating of tags based on the need.
On the other hand, AI-based metadata tagging leverages cloud vision to identify objects in the image and embed them as metadata tags for the image. As a result, AI-based tagging saves a lot of time by providing accurate detection of tags that closely resemble manual detection by humans.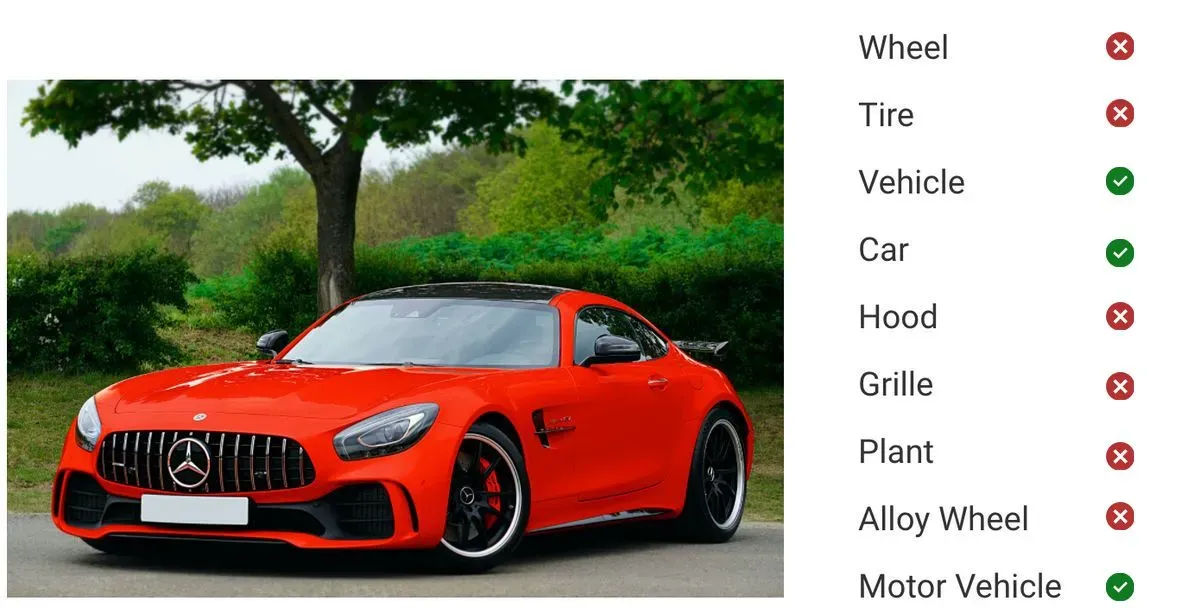 Assets like images, videos, and GIFs can be easily tagged and organized into specific categories, formats, and labels for easy retrieval. Using tagging to label and categorize an asset into specific categories ensures that users can quickly search and find relevant assets without manually combing the entire asset repository.
2. Quick scalability
One of the downsides of on-premise applications is that they are challenging to scale. System resources like storage space and user licenses will have to be added manually, which requires time and, most often, the intervention of technical personnel.
It is also not feasible to start with a plan that offers higher storage capacity or user licenses due to the high capital overlay. For startups that operate with a minimal budget, it will cause the working capital to be blocked in resources that may not be immediately used.
It is here that cloud-based DAM offers a practical solution. With a cloud-based DAM, you can go from 1000 assets to 100,000 assets quickly. Scalability is never a challenge for cloud-based DAM.
This helps organizations with content-heavy operations quickly expand their capacity without losing time.
Using the cloud ensures that the organization pays only for its resources. There is no lock-in for unused resources or agreements spanning a long tenure.
3. Efficient asset management
Finding an image from an organizational repository of thousands of images can be daunting and unproductive. Cloud-based DAM makes it easy with efficient asset management. Assets can be grouped, classified, and sorted into specific categories and file folders.
Using folders to keep assets organized by team, campaign, or purpose prevents clutter and helps diverse teams work together without any hindrance.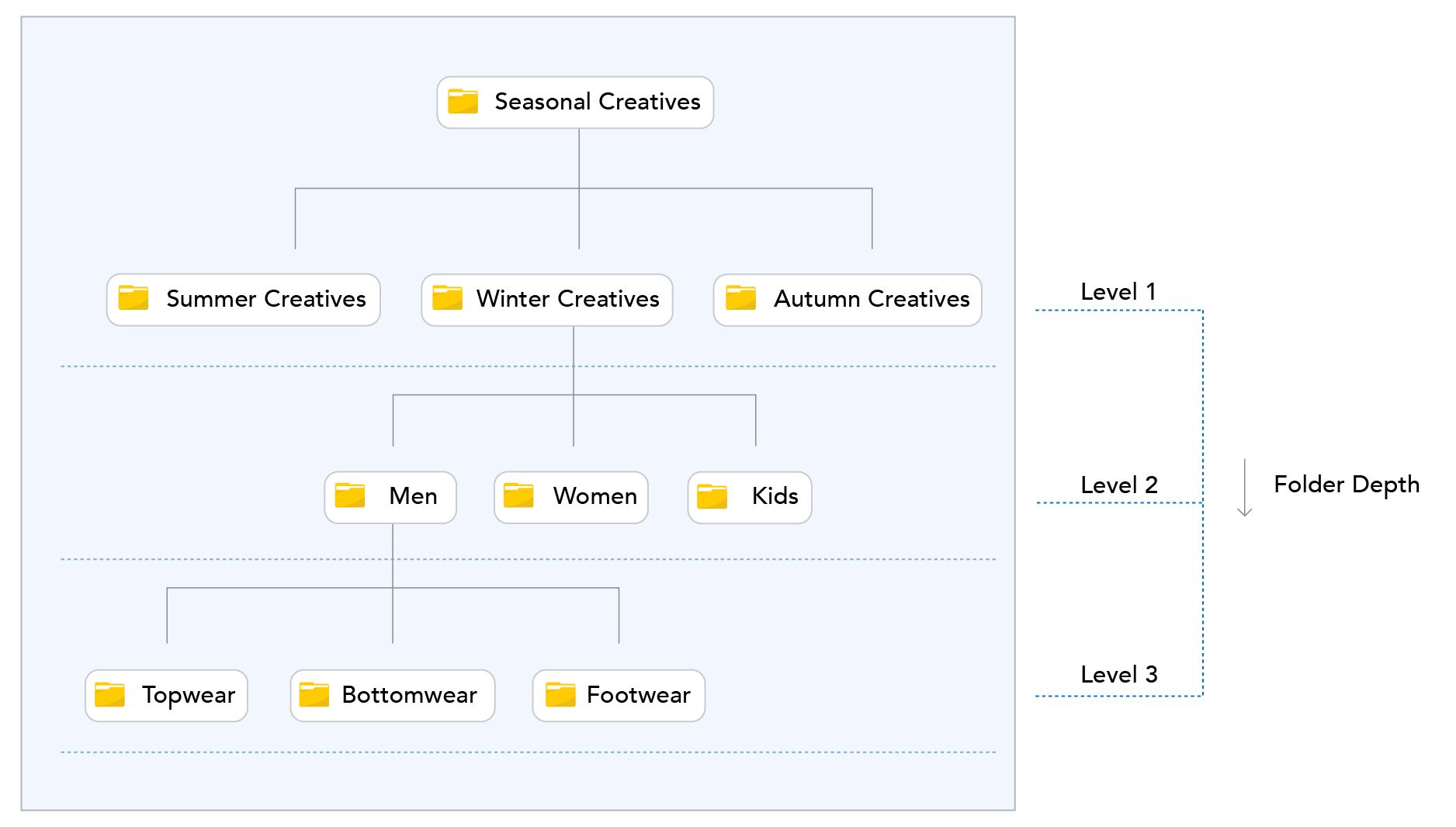 With the increased visibility of assets, teams are more productive with lesser efforts.
Also, when an asset needs to be shared with another team or individual team member, it can be shared via a link to the asset location. There is no need to upload the image again and create duplicates.
4. Fortified data security
Cloud-based DAM comes with high-end data security featuring encryption and SSOs. SSO or single sign-on ensures that individual users of the organization do not have to create usernames and passwords to access the assets. Instead, their organizational email or social profile can be used as the key to accessing the assets.
Further, roles and privileges can be set for account admins, users, and developers.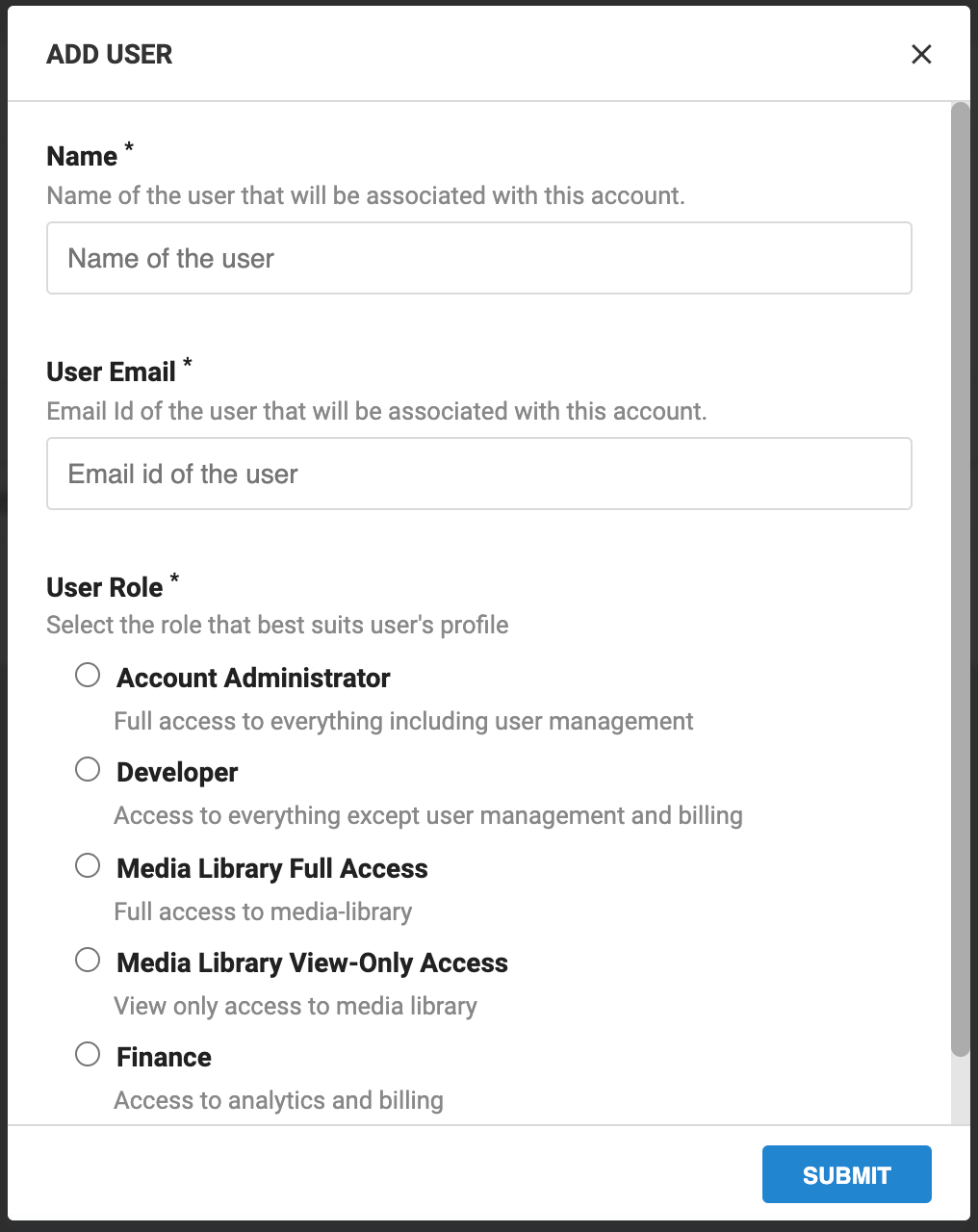 This role-based user access management ensures that there is no unauthorized access to data and resultant inadvertent alteration of assets.

From an org-level data security point of view, cloud DAMs come with state-of-the-art security that stops bot attacks, DDoS, and man-in-the-middle attacks in their tracks with efficient cyber security systems.
5. Reduces IT resource dependency
When working with multimedia assets like images or videos, two functions are frequently relied upon — design and the WebOps team. While the design teams help create the assets, the IT team's support is taken to upload and make the file accessible.
Every time a change or an update is required, these teams must be called upon to implement the change. It is unproductive and creates operations; bottlenecks.

However, with cloud-based DAM, resource dependency is eliminated. Individual stakeholders can edit the assets to fit specific dimensions and manage them on the cloud without involving the design or WebOps team.
This leads to organizational agility and operational efficiency.
6. Universal device access
Cloud-based DAM enables users to access and work with assets from any device, including laptop, mobile, or tablet. In addition, DAM systems are responsive, meaning they can easily fit into any screen size without affecting the controls or the functionalities.
This is incredibly beneficial for remote teams who are always on the move and could be working primarily with mobile devices and are monitoring their tasks.
7. Quick sharing of assets
Traditionally and still in most organizations, stakeholders exchange assets as mail attachments. The same file must be attached and shared when the same asset has to be shared with a group of people. Therefore, an asset update requires repeating the workflow of informing stakeholders and sharing the attachment.
The downside of this process is the duplication of files and effort. Add to it the wrong file naming convention; you will have a definite nose dip in productivity.
With cloud-based DAM, such incidents do not happen. It facilitates the quick sharing of assets in the form of links. Users can share the link to an asset that the recipient from any device can access. Also, when the asset needs to be updated, the same location can be updated, ensuring that there is no back and forth of attachments. It keeps the exchange of assets smooth, clean, and hassle-free.
8. Effortless Digital Rights Management
DAM makes it easy to track workflow approval for specific licensed assets, license expiration tracking, and special approvals for the use of digital rights. In addition, it ensures that the organization is not violating any digital rights of assets that it owns or has licensed from third parties.
Disclaimer: Imagekit does not have DRM capabilities currently and is in the works to release DRM capabilities. Please write to us if you have any queries.
These benefits showcase that cloud DAM is the future of organizations that plan to ramp up their digital asset production and usage.
But who exactly benefits from DAM?

First, within the organization, specific stakeholders or functional teams can realize these tangible benefits. Turns out there are three of them.
DAM makes like easy for three specific stakeholders:
Developers
Marketers
Designers
Developers forming part of WebOps and Enterprise Service Management teams often have to cater to requests from sales and marketing teams to upload assets, make them compatible with web applications, and perform similar tasks. Although they are not resource-intensive, things can get tricky when volumes spike. With a cloud-based DAM, stakeholders do not have to depend excessively on developers.
Further, Modern-day software comes with extensive DAM APIs specifically designed to help developer operations. This saves developers a lot of time and effort, allowing them to focus on tasks of higher priority that can further streamline DAM operations.
Marketers are perhaps the biggest beneficiaries of a DAM system. It allows them to accelerate time-to-market for digital assets like images, videos, etc., embedded on the website, or any other asset used for marketing. In addition, they can easily access assets from a centralized media library and not worry about creating duplicates or using obsolete files. Further, the built-in editing options ensure that assets can be bespoke to the exact dimensions required for each platform.
Read more on how team's can use ImageKit for their marketing operations: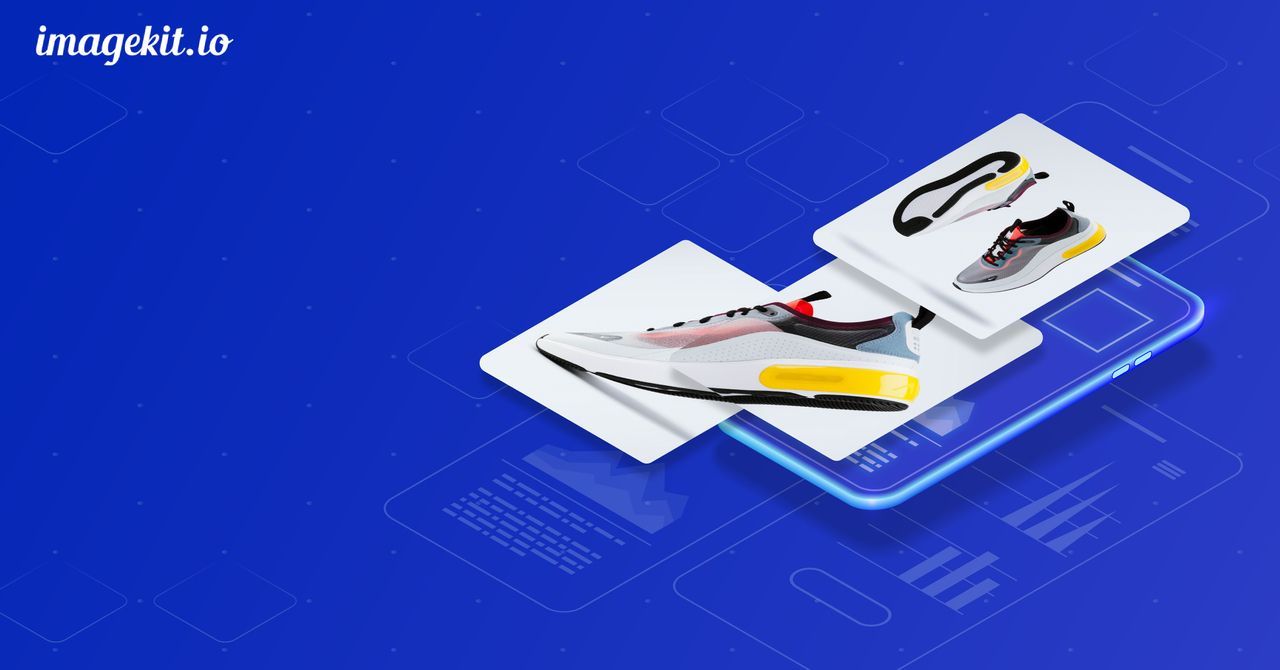 Designers also stand to gain along with marketers. A DAM ensures that designers do not have to share attachments with multiple stakeholders in separate threads. The requests for resizing images to suit each campaign or for the web are also eliminated. All this saves their time and energy for spending on creating well-refined and thoughtful creatives.
Although DAM can prove to be a savior for these stakeholders and the organization at large, it does have its minor list of cons.
Cons of a cloud digital asset management

Cloud-based DAM does offer a range of benefits. However, it is not without some cons, some of which are listed below:
Org-wide adoption requires some effort.
The shift from on-premises to cloud-based DAM requires an org-wide adoption. External stakeholders must be willing to practice data hygiene and naming conventions while creating, uploading, and managing assets on the DAM system. This doesn't come easy as not all internal stakeholders will be receptive to change.
Solution:
Leaders and functional managers must persuade and make internal users aware of why using the cloud DAM is necessary for the betterment of the organization.

Third-party software integration is tricky.
In today's digital world, no software is an island. It has to integrate seamlessly and exchange data with third-party applications without hassle. If your choice of DAM solution does not integrate well with other third-party software, there will be data bottlenecks. It will create chaos than the well-intended boost in productivity.
Solution:
List down the various third-party applications with which your choice of DAM must integrate. Check whether these integrations are possible at the time of consideration itself. Proceed only if the integrations work; if not, consider another alternative.
Maintaining metadata consistency is a challenge.
Metadata holds the key to maximizing the utility of a DAM solution. Without DAM, it will fail to deliver the intended value. Metadata can be collected and organized only if an org-wide agreement exists on which metadata will be used and for what purpose.
Solution:
A list of all possible metadata and the scenario they will use should be created and shared across the org.
In addition to these, some other minor inconveniences may have to be worked out, like:
An uninterrupted internet connection is necessary. Since all assets are hosted and accessed on the cloud, an uninterrupted internet connection is a prerequisite for cloud-based DAM to work.
The vendor is responsible for ensuring maximum uptime. In a crisis, the vendor has to restore systems for access. Any delay in the same could hinder operations.
Security and regulatory compliance are the vendor's responsibility. The vendor must implement security best practices and compliance from region to region. For example, the GDPR in the EU.
Talking to the vendor and discussing how they propose to overcome these cons is necessary.
A glance into the future of DAM and cloud impact

Since 2020, the world has undergone a severe change in how businesses work. Remote work and distributed workforce — both of which were frowned upon as the future of work models have become fixtures. In the process, they proved that erstwhile on-premise DAM systems are ill-suited for the future of work.
Cloud is the future. According to McAfee, the average enterprise uses 210 distinct collaboration cloud services, and the average enterprise uses 76 distinct file-sharing cloud services.
On-premise applications are no longer feasible for the current digital world. Even for DAM, cloud-based options are more practical since they allow employees to collaborate seamlessly, irrespective of location.
To sum up, the benefits of cloud DAM are countless. With the steady march of IT advancements, the need for anywhere, any device accessible DAM becomes essential. It would act as the driving force of organizational productivity.
More than 1000+ businesses across 60+ countries use ImageKit, a leading cloud DAM to manage their digital assets, maybe it is time to give it a spin. Try ImageKit today!
Want to learn the first steps to DAM implementation? Read our free eBook.