Imagine you live in a world that runs on the internet. Your work, customers, clients, and community spend about 99% of their day, sometimes even more, doing things just on the internet. The world has moved online. However, despite the increasing distance between teams and workspaces, the data has come closer under one roof.
A recent report by Fact. MR anticipates that the global demand for productivity software to enhance workflow productivity will be valued at US$ 53.44 billion by the end of 2022, so how do companies keep up with the unprecedented advancements?
From search engines to social media, from ads to partnership collaterals, marketing teams today have to easily manage 8-10 campaigns at any given point. Documents to collaborate, assets that need labels, organizing their content for access- the process is not easy!
Enter social media asset management tools - a one-stop destination for storage, profiling, editing, sharing, & so much more.
Social media asset management tools are one hood for all issues - to keep control over the quality, share the collateral with stakeholders for their feedback, collaborate with other teams, store for usage, and much more.
Relying on storage spaces like Google Drive, DropBox, or simply sharing artworks using zip links doesn't cut it anymore.
With the growing agility in the teams, the best way to handle this is to work with a tool that lets you search things, bifurcate basis tags, type, optimize assets on the go, and deliver them without hiccups.
If you're a marketer, stay with us & read on. You are in for a treat.
So, what are social media assets?

Social media assets are your brand logos, the hashtags you use, the photos you're tagged on, your followers, and your tweets. In a nutshell, social media assets are everything that makes for your online presence on platforms - from the images you post to the videos you go live with, but it doesn't end just there.
Everything that your brand handle puts out or engages with is your social media asset; the entire digital ecosystem of your brand is your social media asset.

Here's a quick list of the types of brand assets:
Static posts
Video posts
Reels
Infographics
Tweets
Ads
Banners, Thumbnails
Why do teams need to manage their social media assets?
One thing that's common between businesses around the globe is social media.

However, a study reveals that audience penetration on social media was just 11% in 2006 but increased to a whopping 91% in 2021.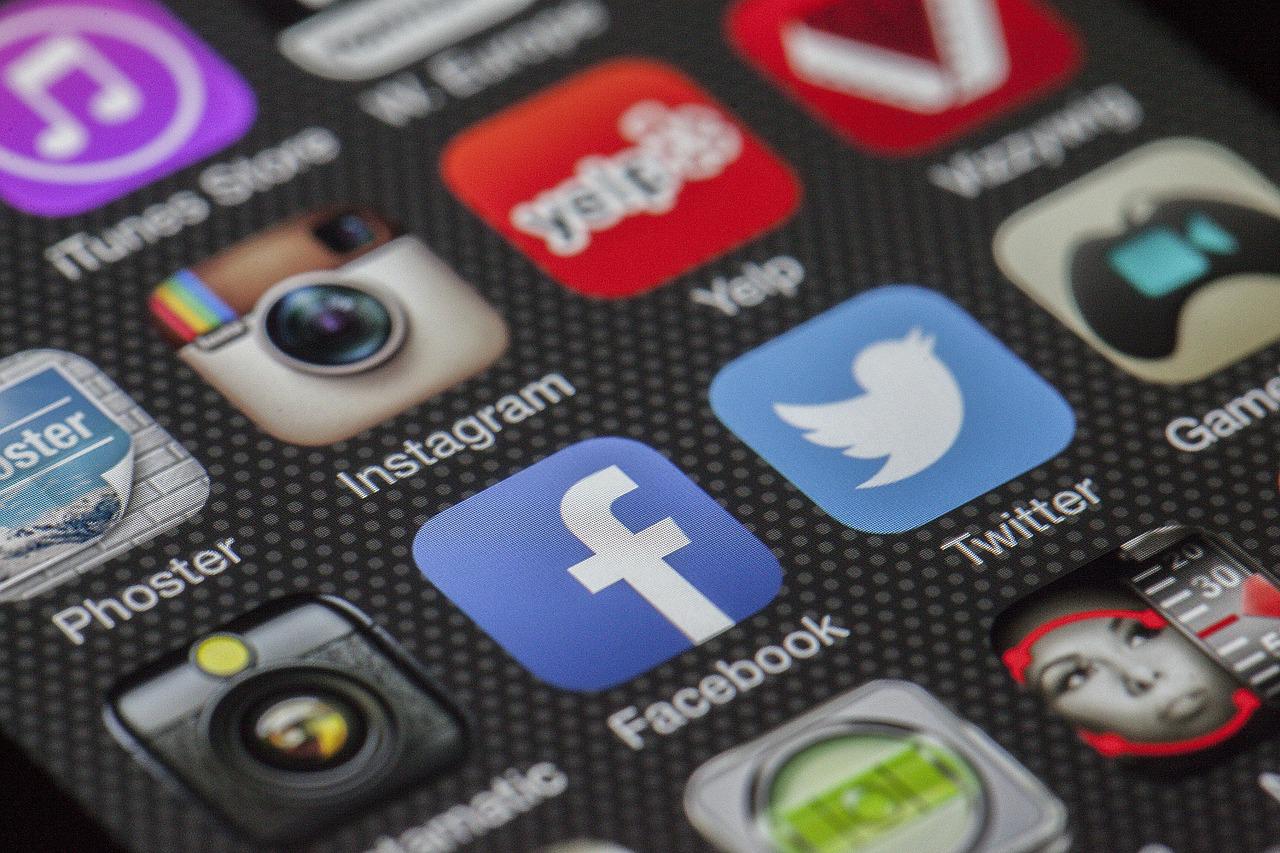 Honestly, running a social media page for a brand is no walk in the park. What we see on the outside, like ads, posts, videos, and reels, resides at the surface of social media management - a lot of planning & iteration goes behind it.
Running a social media page requires an army - strategist, manager, designer, videographer, and writer. But how will they stay on top of their work given the ever-changing trends?
A few years ago, management of digital assets would have looked like this:
Teams would work on marketing collaterals
They'd then create a digital drive for storing their campaign assets
During campaigns, teams would wade through many folders to find the right image
Struggle, and shuffle through discarded elements to find the right one
Download the image from the drive
Send it over for edits, if needed, or use it directly
Upload it on email or put it on WinZip to share
Download again to take it to live on social handles
But gone are those days, teams now use a central asset management tool like ImageKit to quickly access and manage the assets needed for a marketing campaign.
ImageKit has helped over a thousand global organizations manage their social media assets. With all the marketing collaterals tagged, stored, and cataloged in one library, we've made it incredibly easy for teams to access, share, edit, and upload content at any point in the day, from anywhere in the world.
It doesn't matter if your team is small or big; social assets will always cross a minimum of a hundred in a month as you grow.

So how does one keep track?
In case you are in a fix, Here's a quick look at our asset management dashboard: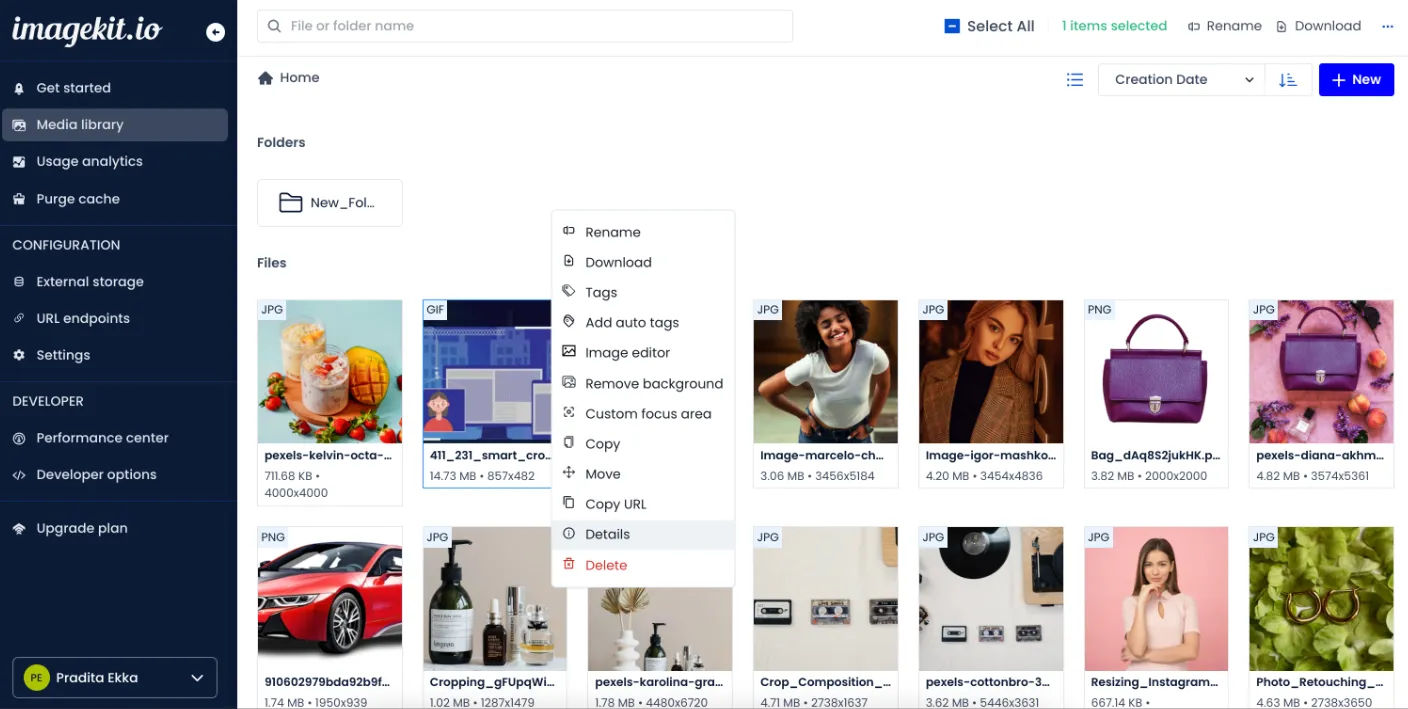 Now,

How does social media asset management work, and what value do they it add to digital teams?
Think of a social media asset management tool like a librarian of your marketing collateral. A librarian takes care of the books, tags them, nicely manages them, puts them in sections they belong, and ensures that they're safely tucked away in a place where they are easy to find.
That is exactly how a social media asset management tool works.
Let's quickly dig into the values a good media asset management tool adds to a team dealing with volumes of social assets:
Planning & allocation of social assets
Creativity within any brand team begins by putting together templates of mind-maps or mood boards on InDesign or Figma. Then, throughout numerous jamming sessions, numerous boards are birthed that are always stored in some archaic corner of the designer's board.
Imagine if all the planning, ideation, and resourcefulness of research could move to a folder for the entire team to access, even those who do not have access to fancy design tools?
The designers can put all the templates directly in your social media asset management folder, where they can be shared & stored.
Furthermore, the tool also facilitates collaboration, like commenting on assets during the process of ideation or creation to make the overall process seamless.
Takeaway: Asset management software helps plan better and brings visibility to everyone.
Marketing managers are most likely to feel overwhelmed with the load of all the campaigns they have to plan. The eerie feeling of things slipping out of hands is common in such a case.
Social media asset management tools allow managers & teams to coordinate like it's 2050!
Features like campaign asset management dashboards, tags, shared workspaces, and workload management is a blessing to fast-paced teams.
Asset management tools with AI-based image tagging are just the surface of what they can do and have already become all the rage within agile marketing communities. In a nutshell, working with an asset management tool makes the team feel more confident about workflow.
Takeaway: Asset management tools make room for better collaboration for teams.
Building workflows for scale
It will be a nightmare if project deliveries happen on a different tool and project management on another. The workflow feature on the asset management tool allows the team to track, allocate, assign, and do a quick status check with ease, especially by maintaining 100% visibility to everyone involved.
No silos. No 1-1 conversation. It helps manifest an open culture, roping in higher productivity.
Takeaway: Asset management tools are all in one suit for social media teams.
Why do brands need social media asset management?
Consider this scenario, It's 11 PM, and your CMO asks for a link to collateral used in your last campaign. He's meeting a client and wants to show some proof of work. What will you do?
Imagine the pressure. You'll first extract whatever you can from your phone, scan your email, call a couple of colleagues, and collate something to share. All of this easily takes 2-3 hours.
If the team is actively using social media asset management like ImageKit, this will probably take two minutes. Open the tool, type your campaign keyword, and share the link.
Marketing teams can manage extensive libraries of collateral basis platforms, be agile, unclog processes, and create, & share assets with ease.
Discoverability of social assets
In the digital age, time is money.
Every minute your team wastes on unproductive tasks can sometimes cost you hundreds, even thousands of dollars. Marketing teams can save time, improve workflows, and automate processes with social media asset management tools.
Create, edit, share, and publish at scale in one place. With asset management tools, make your searches more accurate and ordered with the help of tags, size, dimensions, format, privacy, transparency, upload date, and modified date.
ImageKit's media library allows you to use various filtering options to narrow down the asset you need.
Content creation is teamwork. It's probably one of the most agile teams in an organization that demands complete visibility, shareability, & collaboration amongst teams.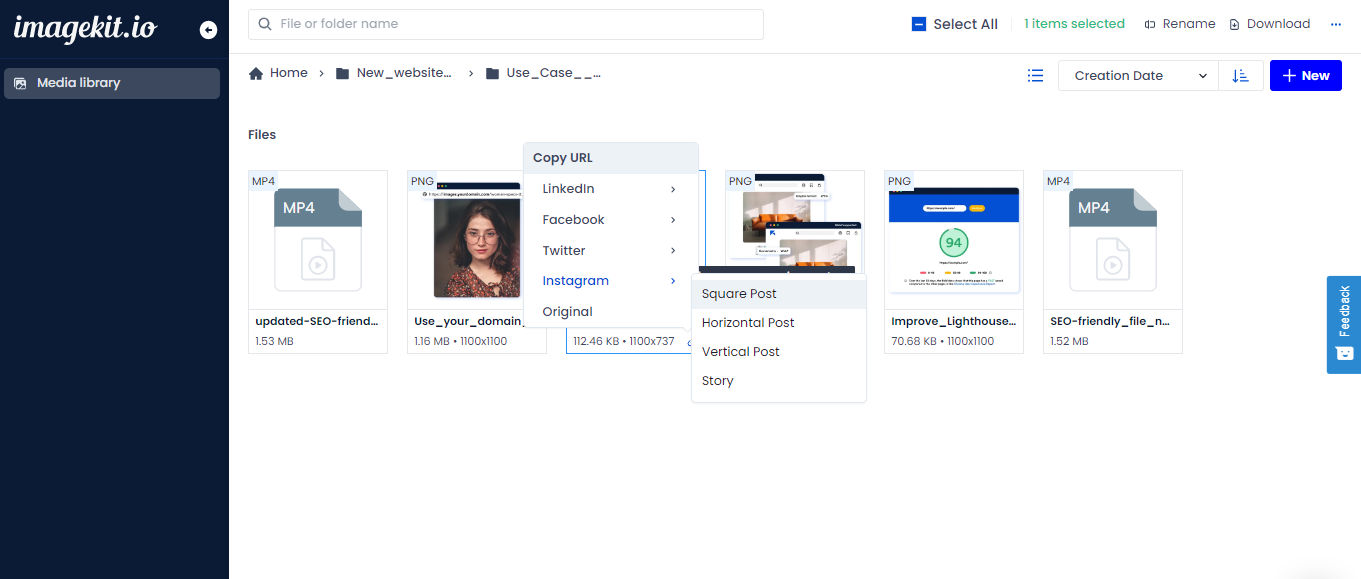 Social media assets management software makes it easier for teams to share, get feedback, get ready-to-use image URLs with automatic image compression for quick sharing, and deliver.
DAM systems are the go-to solution when you have a huge amount of media assets to manage. Powered with its inbuilt features like advanced search and Image recognization AI for tagging, the marketing team's efforts are more focused and productive.
With the growing need to go remote, the efficacy of centralized storage is more needed than ever, considering the online presence a brand needs across multiple platforms and channels.
Did you know you could access your files at any time of the day and guard the permission; filter who can access what, manage user features and be informed about any change done and by whom.
As an owner of your DAM system, you can have end-to-end control over all your digital assets.
How to adopt a DAM for your social media asset management?
Inculcating DAM to your social media entourage could make collaboration smooth as butter. Sure, we all need our docs, drives, and WinZip attachments once in a while, but wouldn't it be great to have your entire asset ecosystem in one location?
Think of DAM software as your media wallet.

To start incorporating your DAM, begin by laying out a structure for your storage space; identify your content buckets, your vocabulary, or, as some call it, the naming convention, add the correct tags, and create branded templates & some more.
Process setting is a one-time job but can rob out the hassle of managing digital assets for life. This integration empowers brands with program management, repurposing, sorting, cataloging, storing, sharing, and collaborating.
Pro Tip: Our team has helped 1,000+ organizations with their onboarding, making the migration less intimidating & strenuous. Reach out to us if you have any questions on how to start.
Let's explore how DAM is an investment for your team's value-to-time ratio.
The most transparent approach to organizing your digital asset is creating folders. First, you create a big bucket that cuts across campaigns, categories, and timelines to store your data.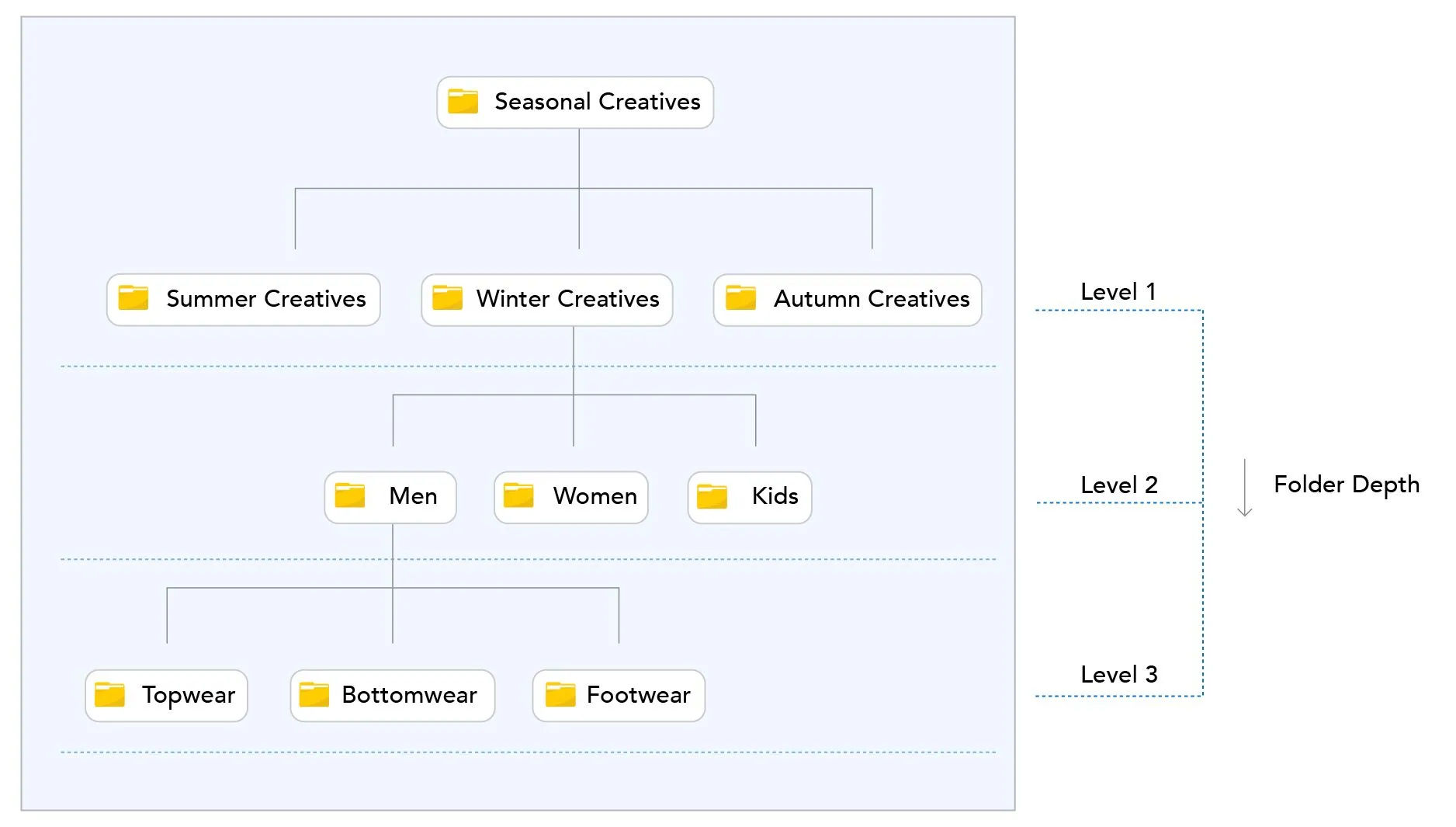 But are you guilty of typing keywords after keywords at least 5 times before reaching your final destination? DAM changes this.
As mentioned earlier, DAM approaches social media assets like a library of content. It allows you to use new-age AI technologies to arrange your assets and make them more discoverable & easy to access. Check out this detailed guide on how you can kick-start organizing your assets.
How to get started:
Set up an organizing structure using folders for your social assets
Device nomenclature for tags and assign it to images, videos, content
Filter out assets for repurposing & re-usage
Set up access mechanism, guidelines for sharing
Finding social assets faster
Post pandemic scenarios have pushed all teams to go digital, leading to an explosion of digital content management in a workspace that sits virtually. In such a case, operating without DAM software can become a nightmare.

Leveraging AI, DAM systems use meta-tagging abilities, data filters, and tags to stack images in a way that makes them highly searchable and easy to find. AI also solves typos and wrong spelling and reads the images using computer vision.
With the help of advanced filters in DAM, your team will be spending a lesser amount of time finding an asset, here's a quick example:  
How to get started:
Narrow down on the tool for your DAM management
Close the naming convention for your tags & meta tags
Setup tags of assets at the time of uploading
Combine DAM filters in the right way to find the assets faster
Image editing for platforms without a designer
There is no doubt that the world now lives digitally, but as a brand, you have to cater to your audience digitally, on 5+ platforms; website, Facebook, Instagram, Twitter, and YouTube, to name a few.
How can teams keep up with images' editing, enhancing, and cropping to address the scope? Enter social media asset management tools that enable a one-stop solution for all these requirements.
Think of color fixing, resizing, shadow fixing, editing, adding palettes, retouching, background, or color correction - the opportunities are endless.
At ImageKit, we have an inbuilt editor that will help you to get things done faster without the help of a designer. In addition, our advanced & global CDN network ensures a solid experience keeping in mind the user's device, network, speed, & more.
Here's a quick guide on how to go about image editing.
How to get started:
Pick any image you want to edit
Go to the image editor.
Create the right editing for your image
Copy the URL and deliver across social platforms as you wish
Collaborate better on social assets
Social media teams know the havoc asset management can cause.

When one has to keep all the stakeholders aligned, take their feedback, provide restricted access, & share across verticals - the word to describe this is chaos!
In the above scenario, you can see how ImageKit's collaborate feature helps resolve asset feedback better.

DAM systems were built on the principle of resolving these challenges, making it easier to collaborate, leave comments, develop quick links, etc.

Moreover, DAM systems enable efficient search based on tags & meta description, making the collaboration 10X easier.
How to get started
Use the DAM commenting feature to collaborate better and share feedback on creatives
Use the asset versioning feature in the DAM to understand the changes an asset has gone through
Manage the access level of users in your DAM systems
User access control
Managing access can be a task, whether restricting access for people outside your team or making multiple admins on a folder to run everyday jobs. Other digital tools such as docs & drives offer limited service - as owners, one can only control so much, but DAM software, on the other hand, offers levels of access for better asset handling.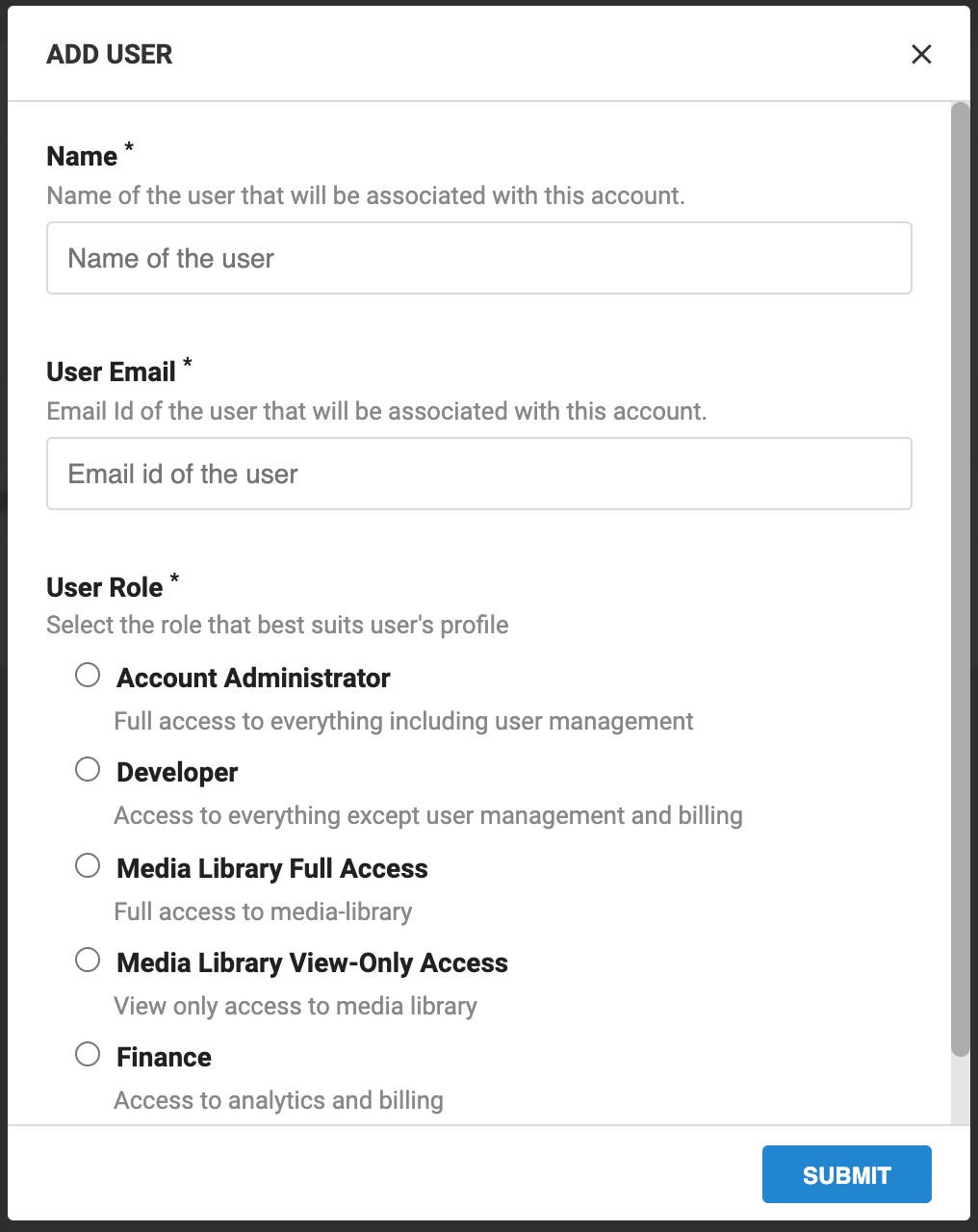 ImageKit standardizes the way of working without compromising on security. From viewing to editing, from commenting to sharing, it gives the owner absolute flexibility. Both internal & external usage, our DAM powers moving & sharing of assets without any worry.
How to get started:
Identify team members & their roles
Assign DAM administrators to each team
Bucket them as per their involvement & give access
Allow these leaders to manage access for their stakeholders
How to regularize the usage with your team?
As teams, we need to collaborate smarter than our need for collaboration. A Mckinsey states that transparency is key to running operations remotely. So, how do teams practice openness and avoid silos when they sit miles apart?
To avoid employees feeling "shut out" from the process of decision-making on technologies affecting their jobs, it is integral to take their buy-in one step at a time.
To truly prepare your team for DAM software, identify their pain points.
Social teams that work without an online system that helps them store collaborate, edit, and share usually are blocked at multiple levels during their day. Conduct a comprehensive overview to identify any pain points and see if your DAM solves them or not.
Once you find a use case, demonstrate the usage and the benefits it can lead to. Let your teams use, play around, and absorb the contents of the tool before you completely migrate.
Hold introductory classes to foster an open attitude towards adapting.
To regularize usage, ensure all new projects and assignments find their place on the portal and ensure shareable links are generated in the DAM.
Keeping the safety & security of your assets in mind, support the creation of naming conventions for your tags & meta tags, and most importantly, do this at ease.
P.S: At ImageKit, we've consulted hundreds of brands in identifying their team's challenges and resolutions to make them more productive. So if you're at a point where you're considering a digital asset management tool for your social media teams, reach out to us for basic advice and clarity on policies, usage, and functionality. Our team will be more than happy to provide answers to your burning questions.
Next big what: video asset management
With every passing day, video assets find a place at the heart of your marketing efforts. Be it performance ads or your social media; videos are taking over everything. But unlike images, videos can be slightly tricker. They add a step to their process of identifying the right asset.
ImageKit solves this by easily managing, storing, and labeling your video assets with AI tags to help in asset discovery. Furthermore, it also takes care of transcripts & translation for all kinds of formats - MP4, MOV, & AVI.
To cater to the current times, video asset DAMs are much more advanced in what they offer and how they cater. Some common benefits that social media teams rave about are:
Preview videos in optimal resolution as per bandwidth, avoid load time
Editing videos at ease.
Converting video files to preferable formats using URLs
Delivering video dimension, size, type, and resolution as per user requirement
Generate external links without worrying about the space. Share heavy files
At imagekit.io, we deliver world-class experiences and more for global teams that work in a fast-paced setup. Use video transformations, automatic optimizations, and integrated CDN to deliver stunning visual experiences for your product.
TL: DR
Marketing teams are probably drowning in assets. With daily, weekly, and monthly campaigns, the number of collaterals created is bound to go higher than ever.
Manually, it's impossible to keep track, store, edit, share, and discover. This is why digital asset management tools help marketing teams worldwide to solve asset management.
DAM for social media teams are no longer a luxury; they're a need.

It's the only way to keep your teams productive and functional in a world that has gone remote.
If you don't want to burn your employees in collaboration, lose a lot of data, run out of storage space, create heavy dependence on editors for basic requirements, or spend hours finding your marketing assets - onboard a DAM.

More 1000+ businesses trust ImageKit for their social asset management; try ImageKit today!