When investing in a DAM solution, evaluating the available options is essential to ensure that your chosen platform maximizes your ROI.
Most organizations look for ease, efficiency, flexibility, speed, reliability, and scalability. While these are desirable characteristics, how does one measure the suitability of a product or ensure that it meets all your needs?
For instance, for an advertising agency that wants to protect the integrity of its creative assets, granular level accessibility is a critical requirement. On the other hand, a rapidly growing e-commerce business might want to prioritize scalable storage and a robust infrastructure.
An easy way to do this is to list your use cases and then review the available DAM features to understand if what's on offer is what you need.
In case you are in a hurry, here's a list of the key areas that you should look for in a DAM solution


Now, let us look at the essential attributes you will need and the DAM features that fulfill them.
1. A central storage for all digital assets

A taken-for-granted function of DAM is to serve as a single repository of digital assets, making it convenient for stakeholders to store and access content easily and quickly. An expandable storage hub that supports different content formats and provides adequate backup with a predictably organized structure creates a positive user experience.
DAM features to look for:
A cloud platform, i.e., a media library, provides a centralized location that can easily store large-resolution images or video and expand on demand.

Option to configure with their choice of external storage and yet use the features of DAM

The data backup and sync functions ensure the availability of assets at all times.

Tags and folders to organize assets as per various attributes.

File format compatibility for wide-range support to both existing and emerging content formats.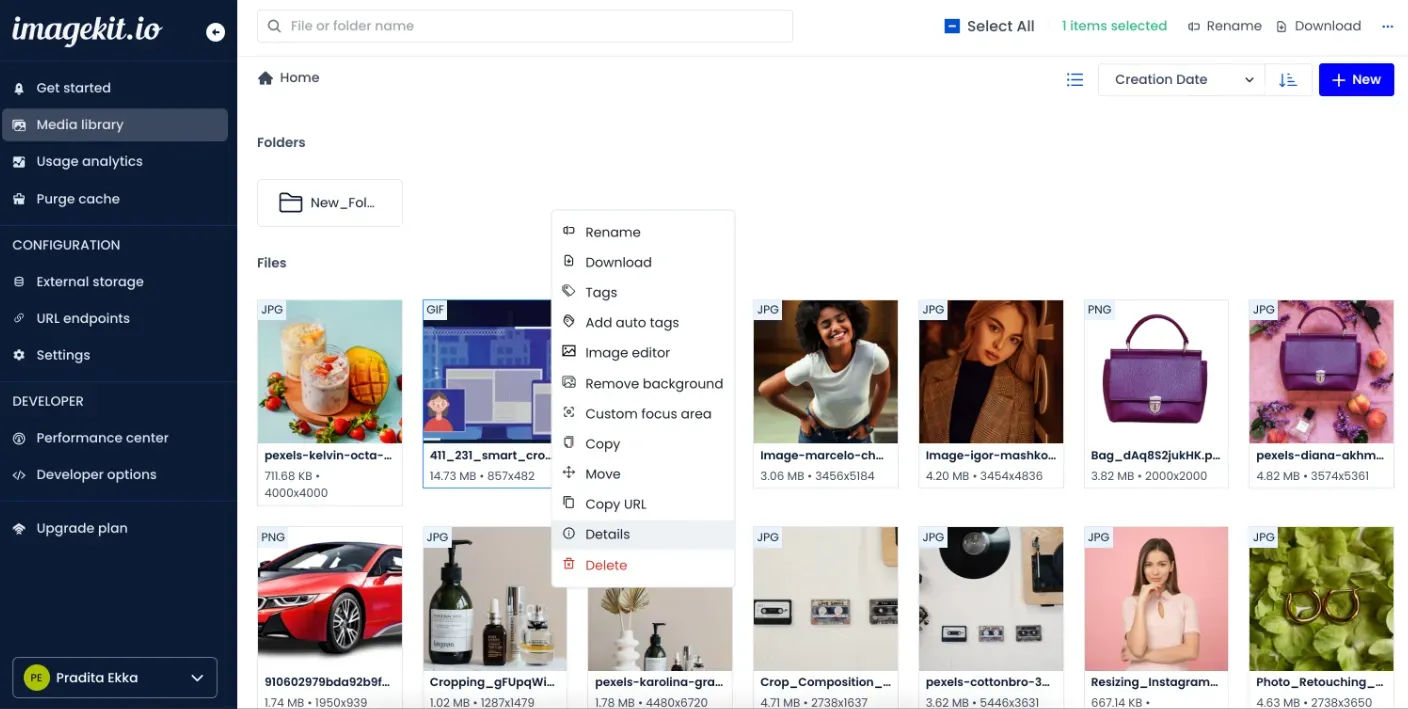 Strong centralized storage ensures that your team's workflow is set right and thus making sure an increase in productivity. Finding an asset is as important as storing it, so here's the next key attribute to look for in your DAM.
2. Advance search for increased asset visibility

Powerful search functionalities can drastically reduce the time taken by users when searching for files. For example, DAM provides single storage and categorizes assets using tags and folders, making it easier and faster to locate any asset. DAM that uses metadata as a parameter for asset organization is best for businesses that deal with a high volume of digital assets.
Here's ImageKit's advanced search in action:
Most DAM solutions use semantic search driven by AI, ML, and natural language processing (NLP), where contextual information is used to decipher the searcher's intent rather than just matching words and their variants.
DAM Features to look for:
Keyword-based search that leverages smart tagging and is business-specific.

Advanced search. Multiple parameters such as file format, dimension, size, and upload data can search queries a long list of criteria. ImageKit allows you to create complex search queries using filters and image tags; it can also group multiple search queries.

Autocompletion of search suggestions for ease and speed.

Saved searches so that you do not have to repeat your query.

Intuitive search powered by AI and machine learning; For instance, you can add AI-generated tags to your media library images using ImageKit's update and upload APIs.

Custom metadata in search queries; ImageKit allows you to define a schema for your metadata keys. Files can be updated with custom metadata values for creating search queries.
Read more on Advanced search in DAM: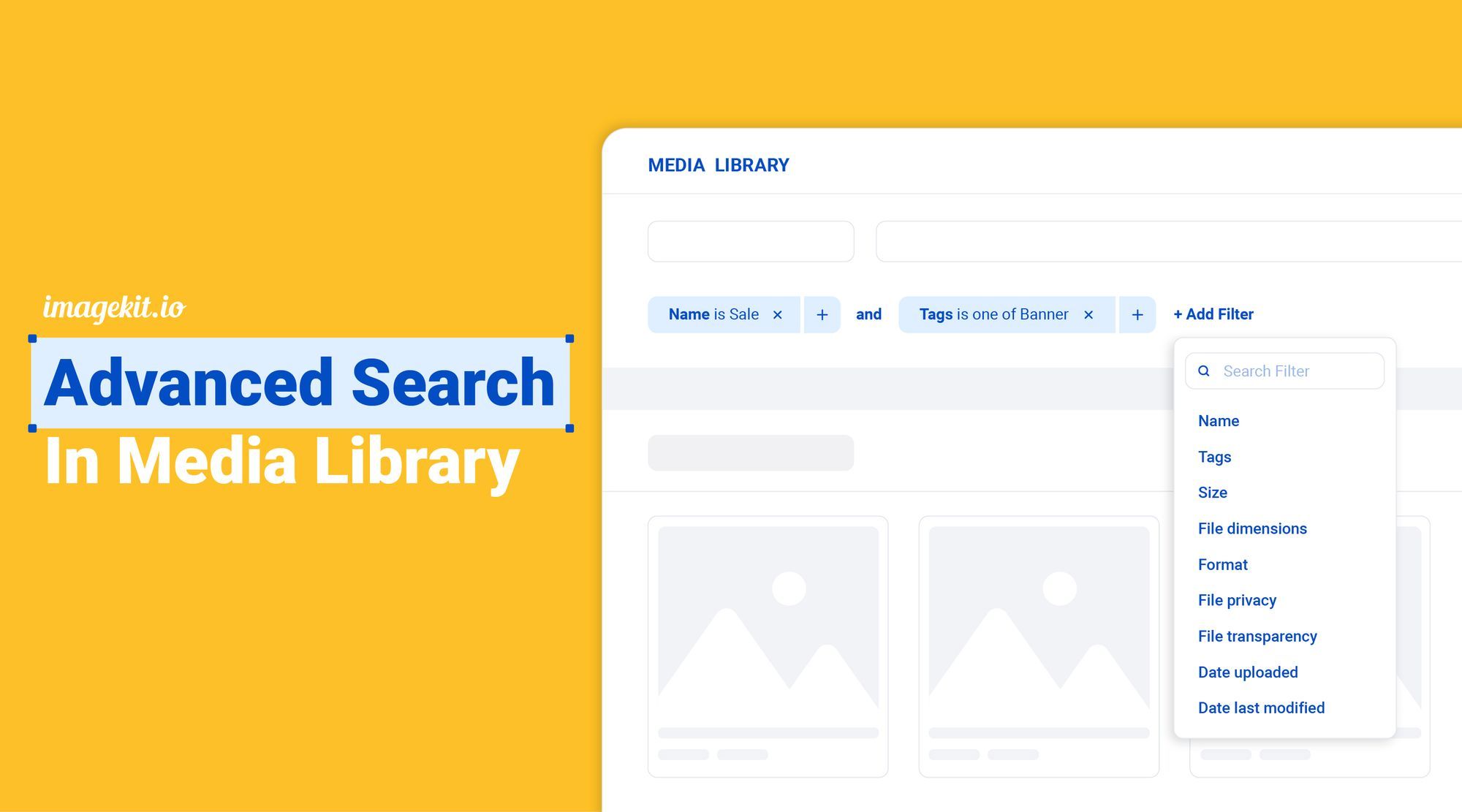 3. Ease of downloading and uploading of assets

Creative assets are often heavy and take considerable time to upload. In addition, modifying assets in the right size and format can be laborious for the design team unless users are given the right to modify them when downloading.

Modern-day DAMs can accelerate downloading and uploading of assets with their interface and ready-to-use DAM APIs. This not only reduces the effort of the stakeholders involved but also smoothens the workflow
DAM features to look out for:
Simplify asset upload with a drag and drop interface. ImageKit offers this feature and appends a random string to the image file to avoid replacing images with the same file name.

Developer-friendly APIs to upload and operate on various assets in a single go. This makes bulk operations such as tagging, file deletions, generating job status, etc., easy and, of late, is a much-desired feature to save time and effort, particularly when the volume of assets handled is more.

Upload by external parties without logging in. An API-based upload widget can be used to facilitate client-side file uploading, a feature offered by ImageKit.

The option to download assets in zip format facilitates bulk operation and is a key requirement if you share assets with external stakeholders.
4. Frictionless sharing and distribution of digital assets

One common challenge teams face when dealing with a central repository is the absence of straightforward channels to share assets internally and externally. This might seems like a trivial aspect, but in the long run, it affects the team's workflow and can cause be a blocker to collaboration.
Consider a DAM that can make sharing and distributing assets internally and externally easy and safe.

DAM features to look out for:
Social link sharing contains images in predefined social media sizes, making it super convenient for users to use them as it is.

A Cloud-based DAM for a borderless content-sharing platform for ease of use and access
5. Fortified security of your digital assets

Digital assets are unique and could be subject to creative licensing or copyrights. In addition, their usage may be restricted or confidential by nature. Therefore, protecting digital assets when in storage and during transfers must be mandatory for any DAM.

DAM Systems that support strong passwords, encryption, and other security protocols are worth investing in.
DAM features to look out for:
Custom user permissions can restrict access to people based on their roles. For example, ImageKit allows five kinds of role-based access. Administrators are given full access, including user management. A developer can access everything but not the billing or user management. The finance team can have access to analytics and billing. Full or view-only access to the media library is given based on need.

Rights management features can prevent companies from violating copyright and licensing agreements concerning assets bought or rented with limited usage rights. Tracking expiry and review dates and setting alerts for restricted activities can prevent misuse of assets.

Secure access to the dashboard. A strong password may not always be adequate. ImageKit has the provision to enforce multi-factor authentication (MFA) for all users within an account.

Security protocols like identity and access management, data loss management, and business continuity. ImageKit offers security features such as restricting unnamed image transformations and using signed URLs to access private marked images. ImageKit is also ISO/IEC 27001:2013 certified, a global standard in information security management, data privacy, and protection.

SSO or single sign-on from IdPs to ensure improved user management. Here's how it works:
6. Maintaining brand consistency

A consistent brand experience can create loyal customers. DAM helps ensure that employees adhere to the brand guidelines and are prevented from accessing legacy assets. In addition, brand templates saved on DAM can hasten the creation and delivery of standard brand assets.
DAM features to look out for:
Version control to prevent the use of out-of-date assets. It protects original copies and incremental changes from getting lost due to unintended user actions or application failures.
Organizing and tracking content. ImageKit allows you to manage media assets programmatically. All the functionality exposed in the ImageKit dashboard is available via APIs. You can integrate these APIs into your CMS to achieve your desired integration.

Setting expiration dates for licensed assets.

Embedding assets directly into websites via asset URLs ensures an automatic update for every change.
7. Garnering insights on asset utilization and optimization


Analytics on asset usage, such as how many people are consuming your content or engaging with it, can help you assess the ROI of every asset and take appropriate action.
Most DAMs miss out on the asset delivery part, and the bandwidth or the size of the asset delivered. Insights into this can help teams optimize and save on the infrastructure cost of their setup. More the saving, better the ROI

DAM features to look out for:
Centralized reporting on asset consumption, user interaction, and rating from various sources can help you make decisions on design and strategy.

ImageKit automates asset performance monitoring and provides alerts regarding performance bottlenecks.
8. Improving collaboration between teams

The creative process involves various steps with different stakeholders. Therefore, they must be in sync to avoid errors and duplication of effort for lack of communication and seamless process flow.
While the core goal of a DAM on the outlook might seem like central storage, they come with specific features built to enhance the collaboration between stakeholders for a more productive workflow.
DAM features to look out for:
Shared folders for collaborative or concurrent work between team members

Clear definition of roles and hierarchies and the access levels of the roles

Access and update assets from any location or device

Ability to add comments or feedback to assets with the history of commenting stored. Approvals for creatives can act like a potent combination for creative workflow.
Quick edit tools to reduce designer workload

Automatic assignment of tasks with alerts for action
9. Supports unstructured data, different formats, and devices


Creative assets come in various formats, need to be used on a plethora of devices, and are targeted on multiple platforms for different segments of audiences. DAM needs to support structured and unstructured content from every source, creating the ability to repurpose or customize assets.
DAM features to look out for:
Support common file types such as multimedia, electronic forms, digital images, scanned PDFs, and emerging formats like AR, VR, or 3D. With ImageKit, you can stream the best video viewing experience for different types of devices over a broad set of connection speeds. It is called adaptive bitrate streaming. Images are delivered based on the user's network quality. High-efficiency Image File Format (HEIF) and AVIF formats store high-quality images for superior quality and compression.
10. Flexible with third-party integrations

A DAM cannot work in isolation and needs to be well integrated with its ecosystem to deliver maximum value. An organization works with several tools such as editors, CMS, or legal systems. The DAM you use must work with all the systems your company uses or plans to use so that users can easily switch between platforms without leaving the DAM software.

DAM features to look out for:
Built-in integration tools such as project management applications
API connection and custom configurations
ImageKit supports Magento, WordPress, and Shopify. In addition, it comes with a URL Rewriter for your existing vendors and a media library widget for integrating any web application.

With new playgrounds such as the metaverse, digital assets are expected to play the hero's role in every organization. They will rise in volume and creativity. We can expect to see more features as this space evolves.
In case you missed getting the list above here's the list to evaluate your DAM buy

To get a first-hand experience of the latest DAM features, we urge you to try ImageKit's free version and discover why our customers find them so invaluable.

We would love to hear your feedback and ideas about the features that you would love to see but are missing in the market. Write to us at support@imagekit.io.