91mobiles.com is one of the largest gadget research websites in India that helps you in comparing the different gadgets and choosing the best one. It offers rich content, reviews, specifications, comparison, tools & news to provide all the information about the gadget you are looking for. With 15 million monthly visitors, 91mobiles secures its spot in the top 250 websites in India. To ensure the super-fast delivery of the high-resolution gadget images to its users, it started using ImageKit.io in September 2017. And with the help of real-time image optimization solutions, we have been successful in improving the page load speed of 91mobiles and simplifying its image delivery workflow.
35% reduction in bandwidth usage
50% reduced cost compared to existing infrastructure
3.5 TB bandwidth saved every month
Removed dependency on multiple in-house software for image resizing and optimization.
Effortlessly switched from our in-house image resizing solution to ImageKit. It helped make our web pages load faster on different devices and simplified our image workflow. It also helped us reduce infrastructure cost!.
The challenge
91mobiles.com publishes fresh content related to mobile devices, other gadgets, latest news, comparisons, reviews of new products including rich visuals, every day.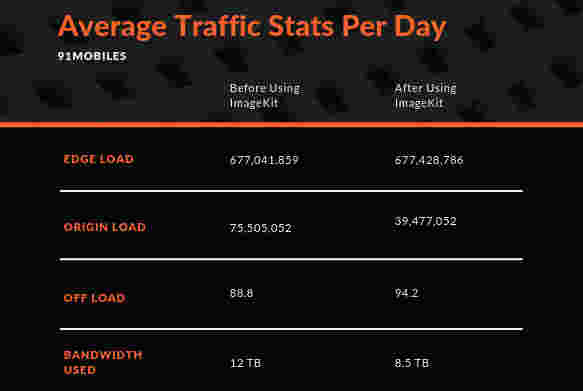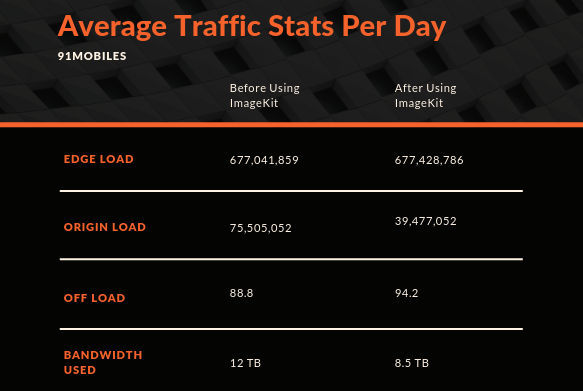 The performance stats of 91Mobiles before and after using ImageKit's Real-Time Image Optimization
When it's about buying a smartphone or comparing various gadgets, images play a significant role. Hence, it was important for 91mobiles to include high-quality images of the gadgets to provide an excellent browsing experience to its visitors. Delivering high-quality images wasn't enough, they also had to take into consideration their website's page load size.
The solution
To achieve all these milestones, it became a priority for 91mobiles to optimize its website images across all platforms, be it mobile devices or desktops. 91mobiles was looking for an easy-to-implement solution which can handle their image issues.
Enter ImageKit.
ImageKit was the perfect solution for 91mobiles as we offer real-time image optimization, URL-based transformations, and image resizing with minimal changes in the company's existing infrastructure. It took only 10 minutes for 91mobiles to integrate their website with ImageKit. The process was very smooth and easy as expected by 91mobiles.
91mobiles uses its own servers and Akamai's CDN to store and serve images. As ImageKit provides a smooth integration with multiple legacy image origins, it was easy for 91mobiles to integrate ImageKit with their origin servers.
The results
After using ImageKit's real-time image optimization solutions, 91mobiles is saving 3.5 TB of Bandwidth monthly and delivering optimized images across all platforms. Here are some stats before and after using ImageKit: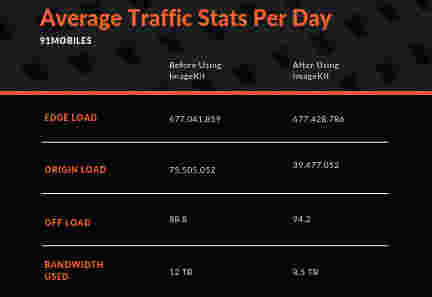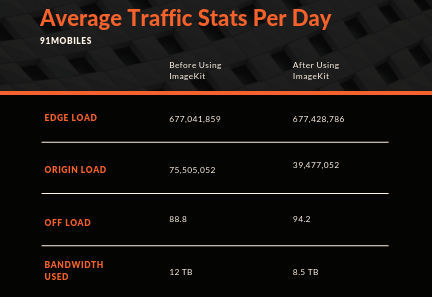 The performance stats of 91Mobiles before and after using ImageKit's Real-Time Image Optimization
So, before using ImageKit, the total bandwidth used to deliver content was 12 TB for 91mobiles. But, after the real-time image resizing and optimization provided by ImageKit, 91mobiles significantly saved 3.5 TB of bandwidth, thus improving the overall website performance, and providing a better and faster browsing experience to its users. ImageKit has simplified the image workflow of 91mobiles, and helped them in managing and resizing their website images across all platforms.