The Challenge
91mobiles.com publishes fresh content daily related to mobile devices, other gadgets, latest news, comparisons, reviews of new products including rich visuals. And when it comes to buying a smartphone or comparing various gadgets, images play a significant role. So, it was important for 91mobiles to include high-quality images of the gadgets to provide an excellent browsing experience to its visitors. Delivering high-quality images was not only enough, but it has to take care of its website's page load size also.
The Solution
To achieve all these milestones, it became a priority for 91mobiles to optimize its website images across all platforms be it mobile devices or desktops. 91mobiles was looking for an easy-to-implement solution which can handle their image issues. And here comes the role of ImageKit.io.
ImageKit was the perfect solution for 91mobiles as we offer real-time image optimization, URL based transformations, and image resizing with minimal changes in a company's existing infrastructure. It took only 10 minutes for 91mobiles to integrate their website with ImageKit.io. The process was very smooth & easy as expected by 91mobiles.
91mobiles uses its own servers and Akamai's CDN to store & serve images. As ImageKit.io provides a smooth integration with multiple legacy image origins, so it was easy for 91mobiles to integrate ImageKit with their origin servers.
The Result – Saving 3.5 TB Bandwidth Monthly
After using ImageKit's real-time image optimization solutions, 91mobiles is saving 3.5 TB of Bandwidth monthly and delivering optimized images across all platforms. Here are some stats before and after using ImageKit: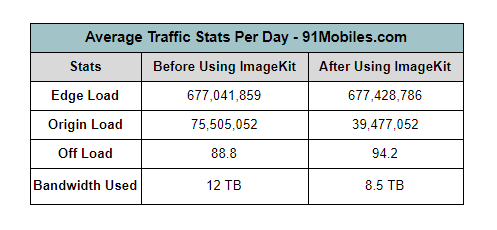 So, before using ImageKit.io, the total bandwidth used to deliver content was 12 TB for 91mobiles. But, after the real-time image resizing and optimization provided by ImageKit, 91mobiles significantly saved 3.5 TB of bandwidth, thus improving the overall website performance and providing a better & fast browsing experience to users. ImageKit.io has simplified the image workflow of 91mobiles and helped them in managing & resizing their website images across all platforms.