As I write this article, the Internet has at least 5.84 billion pages. It probably increased by a few million as you read this page, and you are one of the 4900+ million global internet users with access to these billion pages filled with zettabytes of content – images, logos, PDFs, videos, texts, and more. If your business owns some of these pages, you know the importance of creating, managing, and publishing the right content to engage with your audience.
How do you do that? With the help of tools like CMS, DAM, and several others forming part of the Marketing tech stack.
At the onset, a CMS and DAM might appear to perform the same functions. However, they are starkly different from each other in several aspects.

Let's take a closer look at the differences.
What is a Digital Asset Management Solution or a DAM?

Digital asset management (DAM) is a software system that centrally stores and manages digital content. A DAM solution provides internal and external stakeholders controlled access to all digital assets, including photographs, images, creative files, video, audio, presentation decks, document, and more.
Fundamentally, one can think of DAM as a library of digital assets within an organization maintained by a team of librarians (Marketing team) who neatly tag, classify, update, and secure every asset such that members of the library (employees, partners, agencies) can easily find them and use them for their needs (from creating websites to designing sales ads) without worrying about a breach of rights or authenticity of the assets.
"There is an explosion of information happening, yet people demand quick access to relevant content that cuts through the clutter." – Anne M. Mulcahy, former chairperson and CEO of Xerox Corporation.
The massive increase in content creation and consumption has made tools like DAM necessary for modern enterprises.
An ideal DAM software must-have features that will help employees do their jobs better.
Some such essential features of DAM are:
A "single source" or repository for digital assets that supports all available formats used in the company
Enables creation and modification of assets
Supports advanced and complex search functions
Provides intuitive classification of assets
Automates tagging and image transformations
What is a Content Management System or CMS?

CMS is a software tool that provides the infrastructure for multiple users to work together to create, manage, modify, and publish content on a website without knowing any programming languages. It eases media management and user management. It can support SEO and multiple languages, add custom features, change site views, and more.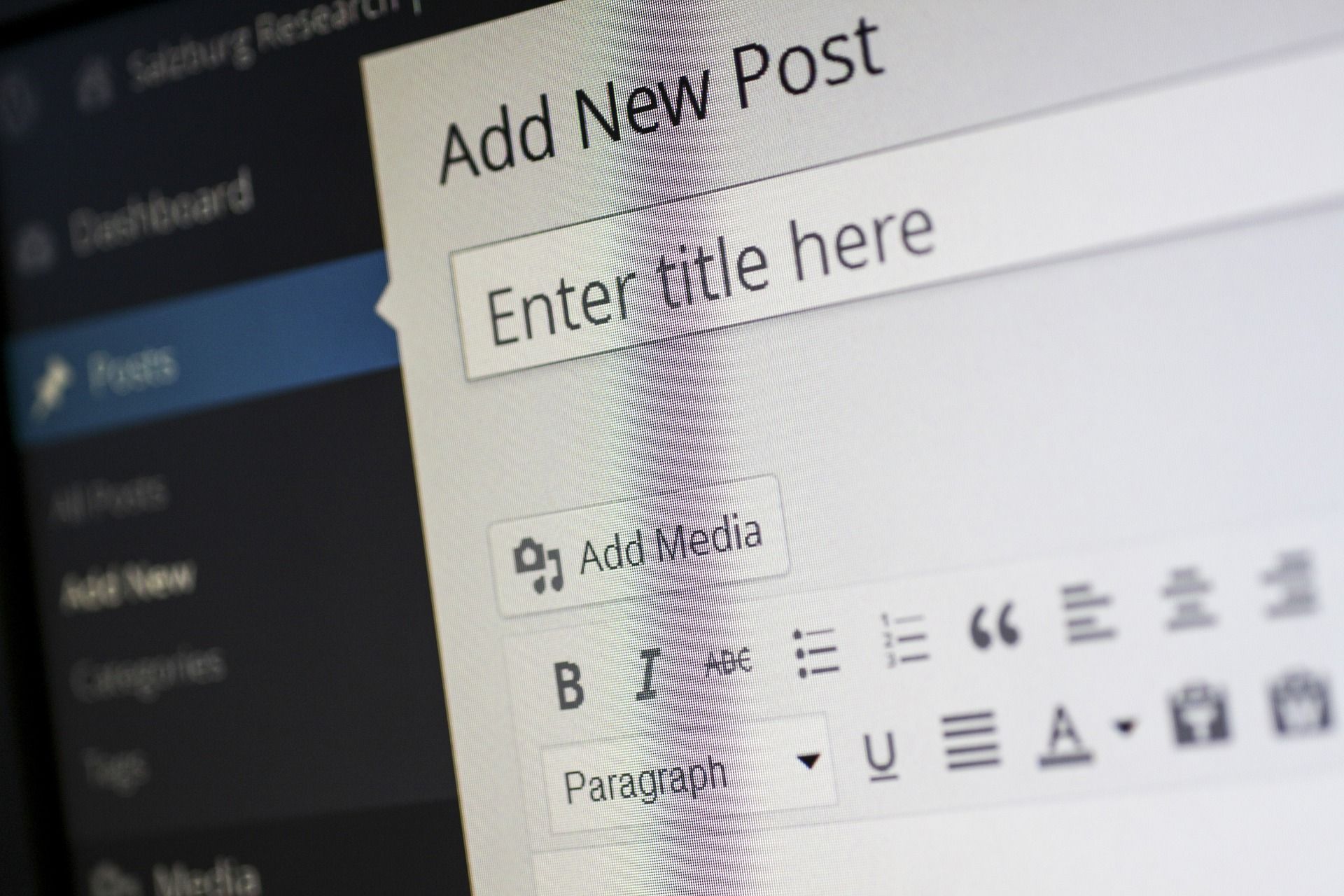 Gartner's IT Glossary defines Content management systems as comprising a set of templates, procedures, and standard format software that enables marketers and their proxies (e.g., web admins) to produce and manage text, graphics, pictures, audio, and video for use in Web landing pages, blogs, document repositories, campaigns or any marketing activity requiring single or multimedia content.
Organizations primarily use CMS to manage their external, public-facing websites, blogs, and other resources. They are also used to render the website on mobile applications. Creating microsites, HR portals, and intranet sites are some of CMS's other common use cases.
Now that we have a fair idea of DAM and CMS let's understand their differences.
Understanding the differences between DAM and CMS

"If your website were a city, there would be a highway of visitors flowing through it. But if you don't know where that highway is, you don't know how to guide traffic. You don't know where to put the billboards." – Andy Crestodina, Co-founder and the Strategic Director of Orbit Media, an award-winning digital agency in Chicago.
Content Management Systems help enterprises (web developers and content marketers) build their cities (websites) and create pathways (edit pages) with billboards (add or remove content) that attract audiences.
A DAM system, on the other hand, is akin to a library of digital assets within an organization maintained by a team of librarians (Marketing team) who neatly tag, classify, update, and secure every asset such that members of the library (employees, partners, agencies) can easily find them and use them for their needs (from creating websites to designing sales ads) without worrying about a breach of rights or authenticity of the assets.
The analogies of a library and a city help us understand the difference between a DAM and a CMS. Can the city replace the library or vice versa? Definitely not. But they can complement each other. The library can provide the assets the city needs. The library has no meaning unless the city uses the assets it houses to deliver the experiences they are capable of.
In summary, a DAM manages digital assets such as videos, audio files, documents, images, graphics, multimedia, electronic forms, and more for an organization. While the CMS is used to help users publish, edit, and manage content on websites, micro websites, blogs, and other resources.
At this point, you understand what a DAM and CMS are, but you may still fail to understand how they are different from each other in terms of working.
The table below breaks down the major differences between CMS and DAM.
Content Management System (CMS) Vs. Digital Asset Management (DAM): Table of differences

Given these major differences, should a business use only a CMS or a DAM? The ideal equation is using them together.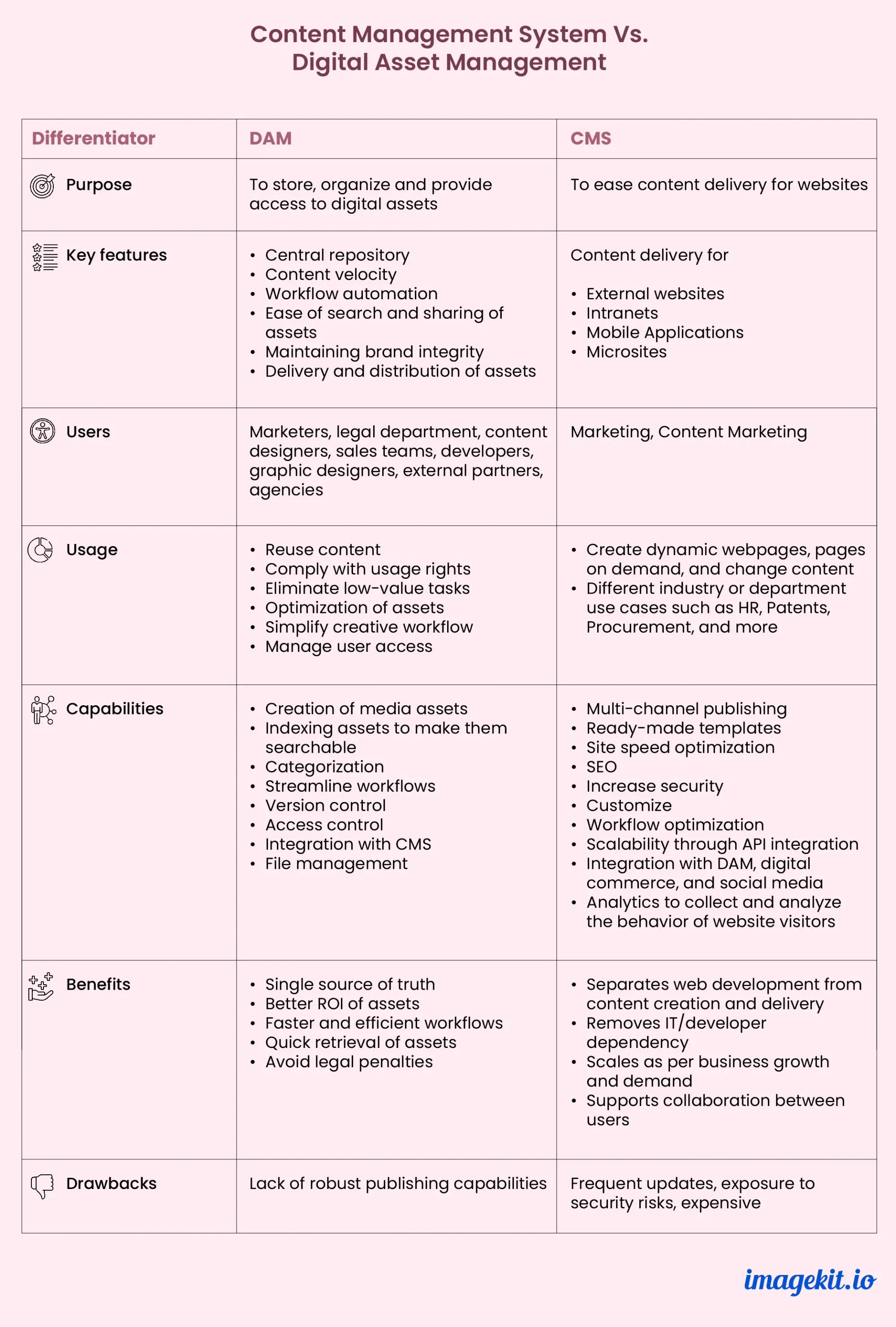 The best of both worlds: What if a CMS and a DAM solution can work together

Many organizations using CMS feel it can take care of their need for digital asset management, particularly if their usage is limited to the marketing department. CMS offers them the capacity to manage the entire content workflow, collaborate between teams, and publish and measure the performance of their content. So why invest in a DAM?
A CMS is primarily built to support content delivery for your websites and not for the entire organization's needs. If you edit an image in CMS for a particular microsite promoting an event, no one in your organization will know the version you created. Even if someone does drop by the CMS, they may find multiple images and will never know which is the latest version.
A DAM, on the other hand, keeps version control. The person using the CMS only needs to pick the right image from DAM, make a new version, file it back for others to know about it, and reuse it.
A CMS is not a repository. It does not have the space or the scalability to store the zillion images your e-commerce site needs. Its media library is elementary and lacks sophisticated tagging or search functionality; it feeds only the web pages' needs. A CMS needs a storehouse where it can store and retrieve files whenever it needs an asset for publishing on the Internet.
Assets originate on multiple channels and platforms in an organization. These assets are processed differently for various needs. To effectively collate these assets and use them productively across the organization, we need a DAM to store them and make them easily accessible. At the same time, a CMS can document the processes for delivery and distribution. This also helps reduce the costs of building websites and managing assets.
Access management in CMS is limited to role-based restrictions. For example, someone with an 'author's' access can delete all the images on a website. In a DAM, one can restrict access to individual assets. For instance, corporate logos are limited only to the brand and corporate communications team as they are critical to the company's value.
A CMS can let you track the traffic to a particular webpage or post, whereas a DAM can ensure that the whole org has access to all the assets to build such webpages or posts.
The rise of the headless CMS reflects the need to separate the web publishing business from content creation and presentation as we are increasingly pushing out content not just on the web but on various other channels, such as mobile applications, interactive applications, smartphones, and tablets. It proves that CMS and DAM work the best when we use them as complementary tools. Neither is sufficient on its own, but they can keep you floating successfully in the nearly six billion worldwide web pages that exist today.
Have a CMS? Choose a DAM to complement it.

With DAM and CMS integration, organizations can ensure their web designers and content managers have easy access to brand assets without leaving the CMS environment. They can confidently use the approved versions and manage their workflows with minimum disruptions or delays.
If you have a CMS, whether WordPress, Optimizely, Sitecore, Contentful, or Drupal, look for a DAM that offers a no-code integration with your system. Choose a DAM that operates in the Cloud; it will give you the flexibility to access the solution from any device. However, that brings the risk of digital theft and other cyberattacks.
Ensure there is strong authentication, encryption, and other security protocols. Just as a CMS is easy for non-technical users, a DAM should also come with intuitive UX/UI. It must offer integration through open APIs for seamless digital workflow between your various systems.
For example, if you are already using a cloud storage service, the ideal choice of DAM system should allow you to integrate them without any hassles. It would give you a choice to work with any cloud storage you're comfortable with while letting you use DAM features extensively. Wondering which DAM system offers such capabilities?
ImageKit is a cloud-based DAM that offers easy integration with your tech stack. We sync with popular cloud providers, native SDKs, and APIs to ease file delivery and uploads on websites and apps.
If you want to experience a DAM before investing in it, sign up for the free version of ImageKit. Once your productivity increases, you can talk to us for more advanced capabilities.